By Gintautas Dumcius, Managing Editor
September 21, 2022
Dorchester Avenue will be on Saturday the location of the city's third "Open Streets" day this year, with the weather forecasted to be 67 and sunny.
Stretching for 2.1 miles, between Freeport Street and Gallivan Boulevard, the avenue is closing to vehicles and opening up to people. The closure will span three MBTA stations, including Fields Corner, Shawmut and Ashmont. Bus routes will be temporarily altered.
Mayor Michelle Wu is hoping for a large turnout.
"We've seen in the last two in Roxbury and (Jamaica Plain) that all parts of community have been showing up, highlighting local businesses, creating new connections and helping people come back together after several years of isolation," she told the Reporter.
The "Open Streets" program is an expansion of a similar effort that shuts down Back Bay's Newbury Street, first piloted in 2016.
"For my team and me it was important to bring that experience out into the neighborhoods as well," Wu said.
Smaller efforts can be seen around the city, she added, from a South Boston street festival in its 22nd year last weekend, to a "night market" in Fields Corner that drew thousands and a block party on Hewitt Street that has happened for more than 50 years.
"This experience of coming together with people who share your same love of city and community is really powerful and is an important building block for how we create community in Boston," she said.
As for the future of the "Open Streets" program, Wu said her administration will "carefully analyze" the response and feedback from community members, and "download on what went well and what didn't work so well."
"Part of the process of testing things out in the city is to know what we need to build on and what we need to change," she said.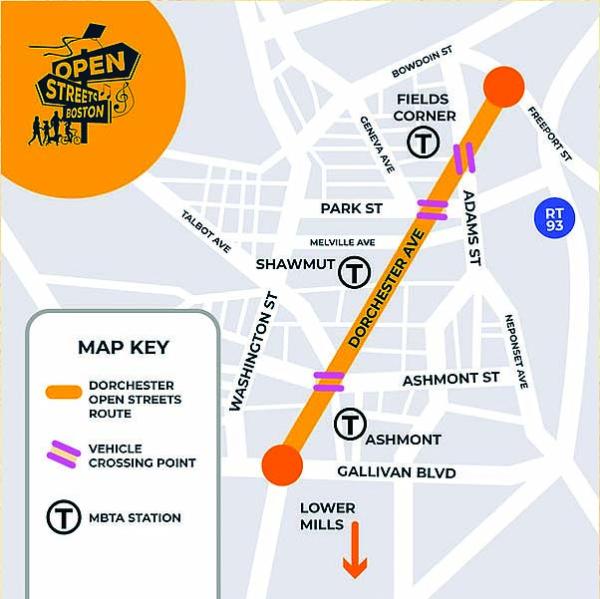 The car-free zone on Saturday will extend from Freeport Street to Gallivan Boulevard. There will, however, be vehicle crossing points at three intersections: Adams Street and Park Street in Fields Corner and Ashmont Street at Peabody Square. The event will also include bus detours, with Route 18 starting and ending at Fields Corner MBTA station instead of Ashmont. Route 201 will start and end near the intersection of Neponset Avenue and Adams Street instead of Ashmont Station, while five MBTA uses (Routes No. 23, 24, 26, 215 and 240) will start and end near intersection of Talbot Avenue and Welles Avenue.
The event is expected to include a variety of visual and performing arts and food vendors, along with activities for kids (face and mural painting, balloon animals, chalk drawing, and bubbles).
Food trucks will be also be on hand: Lord Dawgz Entertainment, Tacos Calleteco, Bon Me, Mig's Dogs, Deez Kitchen, and Work Hard Eat Good.
More information on the "Open Streets" for Dorchester Avenue is available here: https://www.openstreetsboston.org/dorchesterave-1