By Seth Daniel, News Editor
June 1, 2023
As the first residents of the long-awaited Dot Block apartment complex begin to lug furniture and belongings into their new apartments, the developer, Samuels & Associates, believes they will find a living community that intertwines seamlessly within the surrounding residential and business districts.
The Reporter was given a sneak peek to the brand-new living community at the Dot Block site, which has been some eight years in the making. Jeremy Ouellette, vice president of Portfolio Operations for Samuels, and General Manager Chelsea Nason pointed out design elements that invite the neighborhood inside Dot Block, and the residents to venture outside of the complex. Those design hooks include 9,000 square feet of retail, a public park in the center of the development, and a cut-through parkway between Dorchester Avenue and Pleasant Street.
"As much as possible, we wanted it to be intertwined and not set apart," he said. "All these things we did in design added up to that. That includes the parkway, apartment entrances at street level, extensive landscaping, the siding that looks like three-decker siding and the public park in the center and not out at the edge. This is for everybody and not just people who live here.
"There is life outside of these buildings and we want our residents to experience that," he added.
Dot Block had a long history with Gerald Chan's Wintergold LLC but grew legs in late 2018 when Samuels combined with Wintergold and filed new plans in early 2019. The new team got final approvals in June 2019, and construction in Phase 1 has been ongoing since 2020.
Leasing started last month and two of the approved four buildings will come online this summer. The six-story North building with 153 units facing Dorchester Avenue will be occupied first, with residents arriving in the first weeks of June. The building facing Pleasant Street features 92 units in a four-story building and is a few weeks behind Dot Block North.
Interestingly, several apartments in the 'Pleasant' building on Greenmount Street open onto the street for a more neighborhood – and less monolithic – feel. Ouellette expects residents to trickle in through the summer, and Sept. 1 will probably also be a big day. He said they hope to hit "stabilization" within 16 months, with 15-18 months being standard.
There are 187 parking spaces in the development, with 172 in a two-level underground garage between Dot North and Pleasant. On the affordable housing front, there are seven units at 50 percent AMI, and 26 at 70 percent AMI.

To bring a neighborhood feel to Greenmount Street, units facing the street have entrances at street level to intertwine the three-deckers across the street with the new apartment community.
Entering Dot Block, an arrival's attention is directed to the curving, tree-lined parkway that runs between Phase 1 and what will one day be Phase 2 on the north side of the property facing Hancock Street. In the center of the parkway is a 3,000- square-foot grassy space that is open to the public, with resident balconies looking on from above and a pool deck three stories up overlooking the scene as well.
The ground level retail spaces— which are not yet occupied —are also meant to benefit the residents as much as the neighborhood.
"There's a lot of activity around us," he said in noting that they envision three retail spaces right now.
"There are a lot of family-owned restaurants and businesses and we're trying to intertwine with existing neighborhood businesses. It could be a restaurant. We're not sure yet, but that would be a great use."
Because the development kicked off right as the pandemic hit, interior space design and programming had to pivot with the monumental lifestyle changes imposed by Covid spread, particularly the huge shift to working from home or using a hybrid home-office schedule.
Ouellette said that as home workspace became more important, they re-shaped the lobbies to include booths and places for social gatherings in the evenings, but workspaces during the day. The same is true in the units where there are designated spaces in the large living rooms for a computer desk workstation.

Dot Block General Manager Chelsea Nason shows the workstations that are now essential for each unit as residents so often need the option to work from home.
"The work from home – that influenced the decision on amenities for the project and how the lobbies flow. The move to work from home was the largest influence on the project from a design standpoint as it evolved," he noted.
Ouellette said that the prominence of pets, particularly dogs, before and after the pandemic pushed them to locate grooming and pet wash stations prominently in the development. It was by no means an afterthought, he said.
The units are well appointed, with lots of glass to take advantage of natural light and the cityscape outside on busy Dorchester Avenue, cozy Greenough Street, and residential Pleasant Street. In the model units, Dorchester-themed swag is prominent, and every resident gets a move-in gift of 'Dorchester' wooden coasters via Chopstick Value, owned by Savin Hill's Elaine Chow.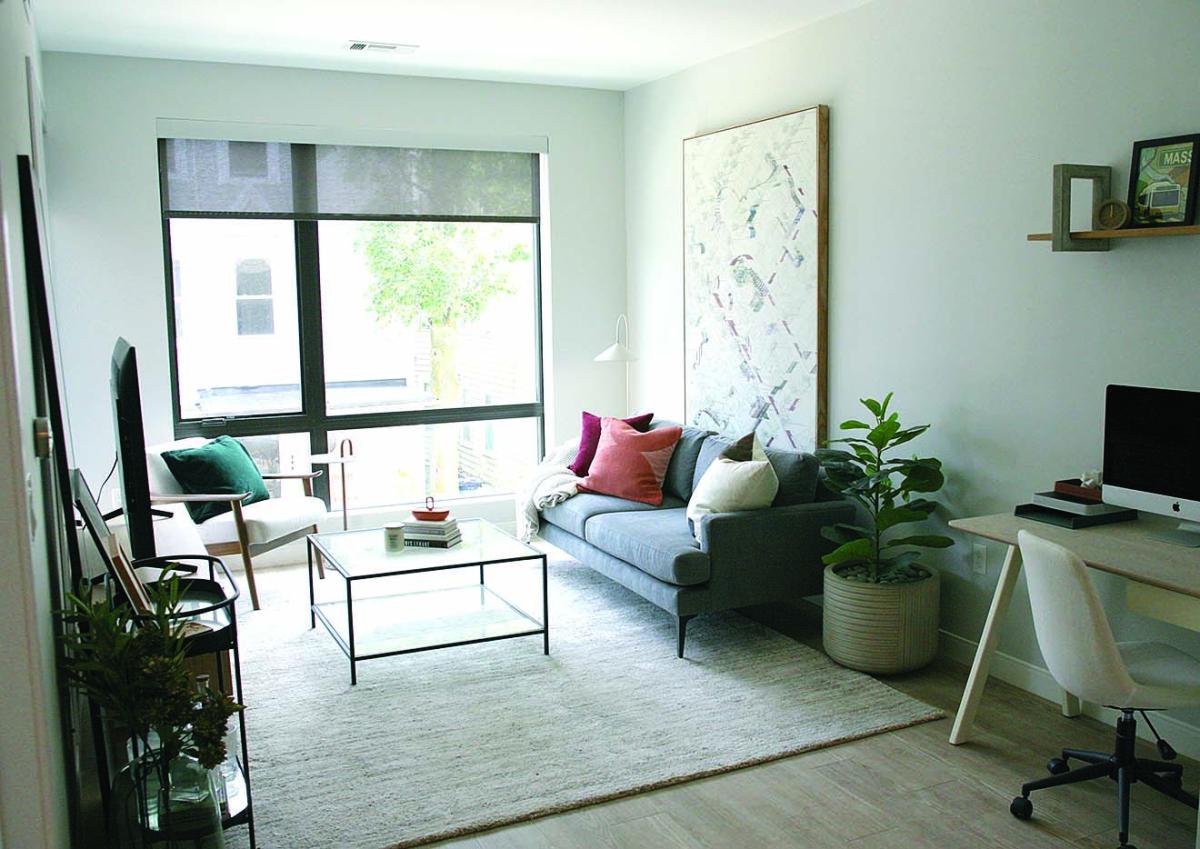 The living rooms in Dot Block units have large glass windows for great outdoor views, and areas to relax.

Bedrooms in the units are light and spacious with ample closet storage.
The units feature a washer and dryer, a spacious kitchen, a large island for cooking and eating, and roomy closet spaces. The unit types run from studios to three-bedroom units, with an average rental price of between the low $2,000s to the mid $4,000s, based on apartment size and location within the building.
Phase 2 of Dot Block is still well into the future, but the rough plans include more than 200 units of housing and additional retail opportunities. For now, though, Ouellette said they are focused entirely on welcoming new Dot Block residents.
"It feels great to get here. It feels like it's where it should be, and we are intertwined and really positioning ourselves in the neighborhood and in Dorchester on a whole," he said.