By Seth Daniel, News Editor
August 10, 2022
The Open Streets Boston pilot program came to Blue Hill Avenue last Saturday as the city closed off 1.2 miles of the roadway from Dudley Street west to Grove Hall. The morning and early-afternoon event brought out hundreds of residents who used the occasion to casually walk or bike up and down the Avenue. A focal point for the festivities came when city officials gathered around noon at Grove Hall to cut a ceremonial ribbon for Domingo Monteiro's new Grove Hall Creamery ice cream shop, then made their way to the main stage near Brunswick Street for community awards.

Cheryl Thomas shows off her Dorchester-themed sportswear

Crowds gathered from Quincy Street all the way up to Grove Hall in the Dorchester portion of the Blue Hill Avenue Open Streets – which stretched to Dudley Street. Seth Daniel photo

Dontae Jean of Trikes sports a pose before giving Monica Marshall, owner of L. Dee's Bait and Pet shop a ride in his Pedi-Cab.

State Rep. Liz Miranda offered snow cones to Kade Crockford and Oami Amarasinghhham

Charli'naru Dones prepared to perform on the main stage in the morning on Saturday.

The Massachusetts Poor People's Campaign was in attendance with a booth on Blue Hill Avenue. (L-R) Rev. Sarina Martin, Cynthia Parker, Pat Aron, Vaughn Goodwin, Chantal Sanchez, Amelia Strawsby and Bill Larkin.

Azariah Harley Long puts the blue flavoring on the snow cone.


Celebrating a day without cars in the middle of Blue Hill Avenue were friends Karen Pereira with Chloe, Linda Lee, Omari Aarons, and Craig Martin.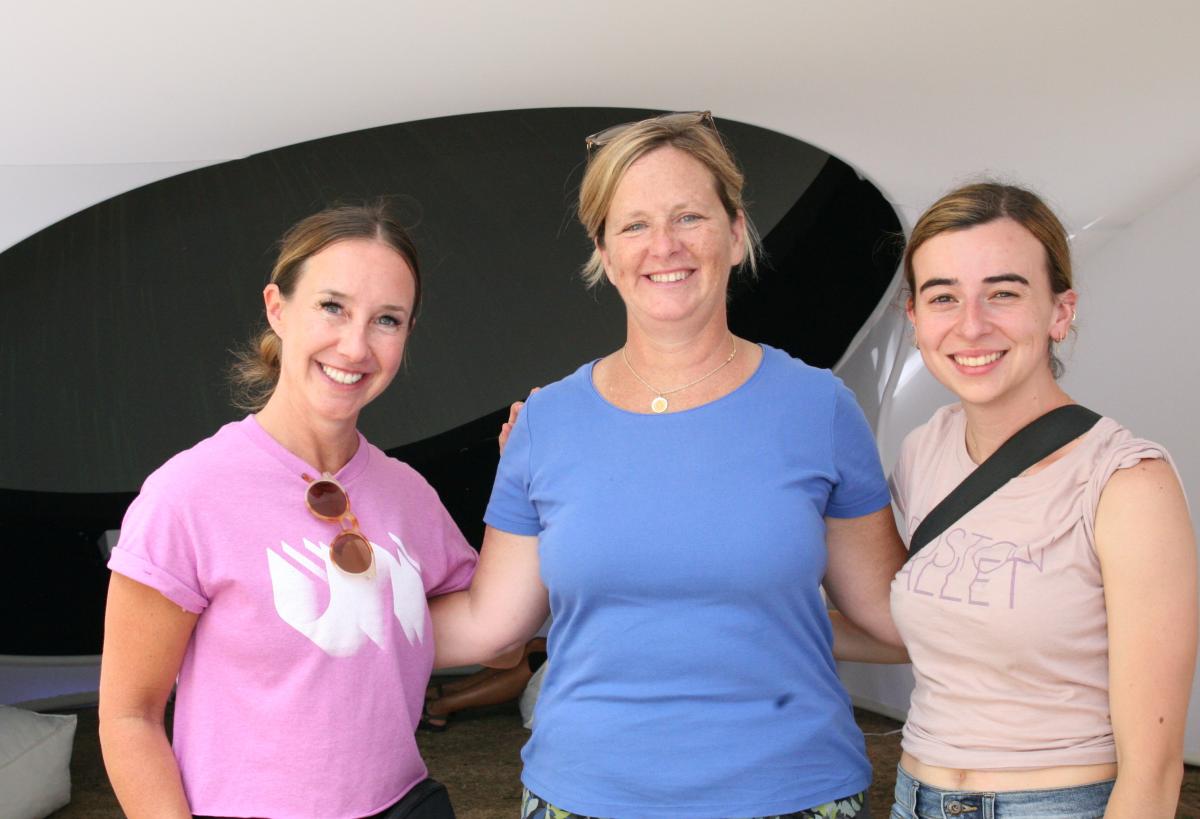 Councillor Erin Murphy poses for a photo with Boston Ballet personnel Deborah Moe and Brooke Trisolini at their Uni-Dome exhibit.

DJ Selecta CJ from 87.7 FM was set up right on Blue Hill Avenue providing music to all those passing by.

The Boston Cyclist's Union brought a convoy of bikes down Blue Hill Avenue around noon to show what can happen when streets are closed to cars.

Ariana Rivera and Anthony Graham pose in front of the photography exhibit of David Irvin, which was set up on large boards right on the street.

Oscar and Gail Margain, with Caline, relax in chairs at Grove Hall.

City Chief of Streets Jascha Franklin Hodge arrived at the Open Streets on his bicycle.

Mayor Michelle Wu welcome new Grove Hall Creamery owner Domingo Monteiro during a ribbon cutting ceremony at the Blue Hill Avenue Open Streets.

Councillor Brian Worrell welcomed everyone to District 4 on Saturday morning.

Dorchester's Latifa Ziyad enjoyed riding her bike up and down a car-free Blue Hill Avenue all day.

Stephanie Harris pulled out the skills to show the teens how to Double Dutch.