By Seth Daniel, News Editor
April 29, 2022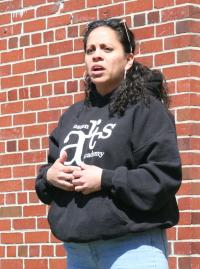 Lily Handy entered her freshman year at Boston Arts Academy (BAA), which has been in Fields Corner on Charles Street for the last several years, with the highest of expectations three years ago. The most recent in a long line of family members who had attended the district's only arts-focused school, she dreamed of perfecting her dance routines amongst other budding student artists.
But, at a rally outside the school last Friday morning, where BAA students had gathered to demand reforms, she told a story far removed from her dreams.
Last October, she said, one of those fellow budding artists nearly cut off her ear in a violent attack in the school. Her ear was lacerated, and she was taken by ambulance to the hospital, where a surgeon treated her.
Then, she added, just three weeks ago, on April 13, she was jumped as she came out of the bathroom by another group of troubled, and, she said, increasingly violent, students at the school.
That was the end of the line for their family legacy, said her mother, Anita Handy, who told the Reporter that she will remove Lily from BAA.
The greater problem, however, was something Lily, her mother, and about 70 other students detailed at the rally– there is no accountability for those behaving badly.
"My only dream for high school was to attend Boston Arts Academy," Lily said. "Little did I know my junior year would be my last year. No longer is being a student at BAA a pathway to a career in the arts. I wouldn't have come here if I'd have known. I'm the victim here, but yet I'm the one punished, and I'm the one who has to leave, and the perpetrators have no accountability."
She added that the student who she says slashed her ear still goes to the school and can still perform in school productions. "I get my ear sliced by a boy and nothing really happened in the end. I have to take classes with him now and face him."
Added her mother: "We didn't want to, but we sought a safety transfer. She didn't feel safe, and we didn't feel safe here."
Jennifer Lopez, who has been active as a school parent at BAA, said the situation has broken her heart. Her daughter, Laura Lopez, said she came into the school with high hopes and started out with straight "As," but has been bullied and harassed so aggressively over the years that her grades are lagging, and she is struggling to graduate. In tears, she said she now hates coming to school.
"The victims at this school are not being heard and the bullies are being protected," said her mother. "My main message is that talking to these students works. You just have to do it, and they're not."
One-by-one, students chronicled what they said was a culture of permissiveness for some students who are prone to violence, bullying, and other bad behavior, but suffer few repercussions.
Student Eko Gonzalez talked about the time when a boy several times put his body too close and forcefully lay on top of Gonzalez despite efforts to get him off. Gonzalez and a friend, Ivan Diaz, both said they are trying to get a resolution to this incident but to no avail.
"The student said they were experiencing mental illness and couldn't control it," said Gonzalez. "We've seen this student do some obscure things. The adults here say they don't want to do anything because the student is mentally ill and so nothing happens, and we've told them about this several times."
Added Diaz: "We don't feel safe in our own school, and we can't even count on our teachers to have our backs. You just want the adults to act like adults."
Time after time during the rally, students voiced their opinions about teachers/administrators needing to be more professional, about accountability for those who are hurting and harassing others, and about the lack of proper discipline and safety.
BAA Principal Anne Clark and a handful of administrators and teachers were in attendance and she acknowledged that there are problems at the school. She said she wanted to hear the students out.
BAA has been located in Fields Corner for several years while a new $125 million facility is being built in the Fenway across from Fenway Park on Ipswich Street. The school enjoys a long-standing reputation of cultivating artists and being one of the better educational facilities in the system – but the students on Friday disagreed about that reputation now, noting there is more being done to protect the reputation than preserve it.
BAA enjoys a very public and active alumni association and foundation that has raised large sums of money to help pay for the new school, and for the many extras that will go into the new building when it opens next fall.
Friday's protest came on the heels of a scathing report last week that detailed allegations of horrendous student-on-student abuse at the Mission Hill School K-8 in Jamaica Plain. The allegations and findings in that report were so bad, according to Supt. Brenda Cassellius, that the school community was "beyond repair." She has called for the School Committee to close that school in June.
Boston Public Schools (BPS) told the Reporter that the system has a Code of Conduct, and that it has been applied by the administrative team at BAA when appropriate. They said that proper discipline was administered in several cases at BAA.
However, they also said that they had to be careful not to quickly expel or suspend students and go overboard, as that is what previously caused the school-to-prison pipeline in the past. That is something they said that they keep in mind and try to steer away from, making sure "an instance does not ruin a student's life."
For students and parents on Friday, the situation was about a small group of students who have been emboldened because they can cause trouble while avoiding punishment, and about a group of teachers and administrators who, they said, were not able or willing to stand up to these students.
"It's clear what students get favoritism and get no consequences and get away with anything," said student leader Makeyla Lopez.
"The fact that students had to get physically hurt and we had to come outside and stage a protest to get action is very wrong," she continued. "We came in as freshman excited to be artists. We can't stand to even go through the doors now…If I could go somewhere else, I would."
Added student Latavia (who did not give her last name), "They made us feel like this was going to be singing and dancing and all 'High School Musical,' but this place is just ghetto."
BPS officials and BAA school leaders did agree to a set of next steps at the end of the protest, which included follow up meetings between administrators and family council members this week– as well a school community meeting with students and administrators.