By Katie Trojano, Reporter Staff
March 24, 2020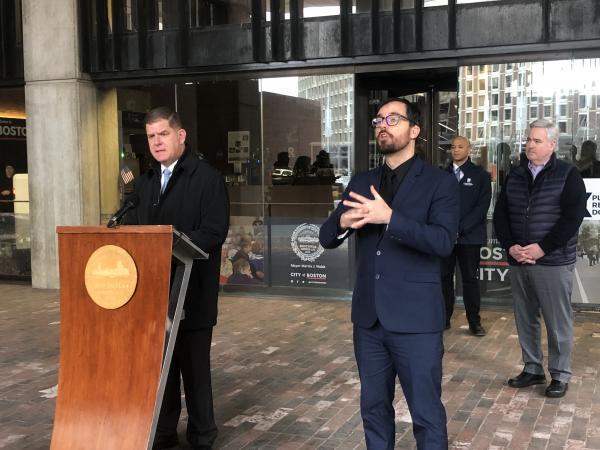 At-large City Councillor Michael Flaherty of South Boston sees his most important role during the ongoing health emergency as connecting worried constituents to vital, accurate information resources.
"With new details and orders from the governor and the mayor emerging almost daily, it's important to update people and let them know there are resources available," Flaherty told the Reporter in a phone call on Monday. "Sometimes it's simply a matter of pointing them in the right directions that makes a huge difference." 
RELATED: Elected officials confront close-in needs of constituents, but from safe distance
He credited the daily communication between the city council and Mayor Walsh as being helpful. He was on hand at City Hall on Monday, standing behind the mayor as he updated the media— and the region— on new developments.
"We're working together through our Zoom conference calls in the mornings. They've been very helpful and informative and this way we can make sure we aren't duplicating efforts," said Flaherty. 
He praised last Saturday's citywide lit-drop as "a great way to get info out to people across the city. In many of the calls and emails my office gets," he said, "people are looking for information and answers."
The councillor's advice for the citizens of Boston: Prioritize your health, look for information only from trusted new sources and elected officials, and trust that the city will get through the public health emergency together.  He cautioned people from trusting information from social media.
"There's a lot of rumor and a lot of conjecture on Twitter and Facebook," he said. "I urge people to pay close attention to local news sources and their local electeds.
He added: "We're all in this together, and one of the strengths of Boston is our resiliency. We've been tested before and we've come out all right.
We can do that again."Things might get worse before they get better, and we all have a responsibility to do our part, whether that's supporting local restaurants and businesses if you have the means, staying inside, or helping out a neighbor."