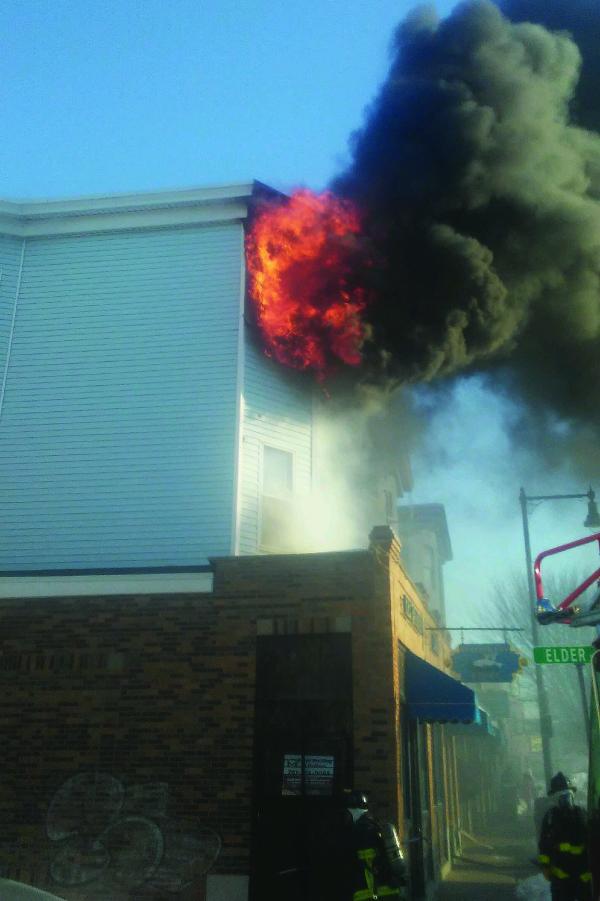 A three-alarm fire blazed through the third floor of a Columbia Road building on Wednesday morning.
The top floor of a three-decker above Restaurant Laura at 688 Columbia Rd. was reported aflame by motorists who spotted the smoke. Firefighters responded at about 7:44 a.m., and the fire was knocked down by 8:08 a.m., according to the Fire Department. All residents were safely evacuated from the building, officials said, although one resident and one firefighter were injured.
Mike Folan, a Dorchester resident who was driving by the scene on his way to work, said he spotted smoke puffing from a third floor window. He and a co-worker pulled over and began attempts — along with other passersby— to alert residents inside.
Folan said motorists honked their horns and called 911. Others threw ice and snowballs at windows in hopes of gaining the attention of anyone who might be inside. By the time firefighters arrived on scene, the third floor of the building was consumed with flames, he said.
The fire was contained to the third floor and eight residents were displaced, fire officials said. Damages are estimated at $750,000. The cause of the fire is under investigation.
According to Uphams Corner Main Street, Restaurant Laura is currently closed while the owners figure out next steps, though their liquor store next door remains open.