By Daniel Sheehan, Reporter Staff
April 23, 2019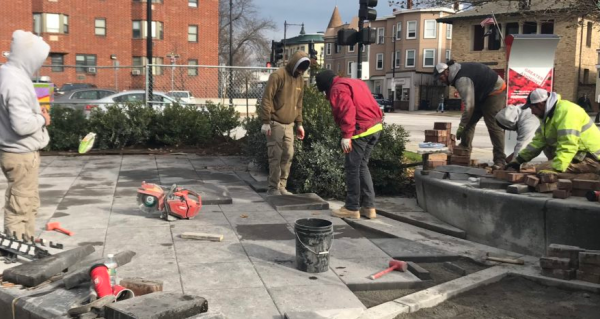 City officials and community leaders will gather in Peabody Square on Friday at 11 a.m. for a ribbon-cutting ceremony celebrating the official completion of the renovation and revitalization of the square's east and west plazas.
Greater Ashmont Main Streets (GAMS) initiated the project to revitalize the public spaces last year. The group led a crowd-funding campaign and secured matching donations from MassDevelopment and other institutional donors to raise a total of $96,430.
That money was used to improve green spaces in the square and add picnic tables, benches, and other features to make the square safer and more accessible for cyclists and pedestrians.
According to Jenn Cartee of Greater Ashmont Main Streets, those efforts, which included installing new stonework and planting a sycamore tree, were about "reclaiming an area that was part of a congested intersection into a space for community interaction."
With its new look and pedestrian-friendly layout, the protected green space at Peabody Square is equipped to serve as a site for public art and performances, realizing its potential as a "people's plaza."
Friday's ceremony will be held in front of Ashmont Grill, across the street from the Ashmont MBTA station.