By Jennifer Smith, News Editor
November 13, 2018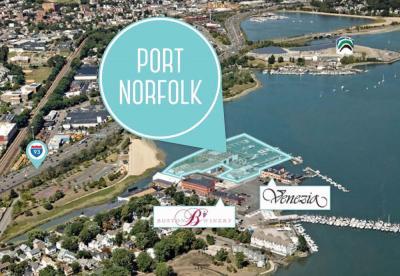 Traffic, parking, density, height, and environmental concerns from neighbors and elected officials around a large waterfront project at the tip of Port Norfolk stalled the plan's progress in August. As the developers work on a new pitch, city officials will hold a meeting this week outside of the specific project process to discuss planning in the Port.
Years of unease have swirled around what started as a combination residential, marina, retail, and boutique hotel plan for the 156,816-square foot site, which was dubbed "Neponset Wharf" by developers. Even after reductions in use and scale, the latest proposal, for 96 units maxing out at 7 stories with 170 parking spaces and a smaller retail area, did not score well with the local civic association or neighbors who attended planning meetings.
Although no formal neighborhood plan is expected to come out of Wednesday's meeting, city project manager Tim Czerwienski said he hopes to get a sense of residents' preferences for the site.
Boston Planning and Development Agency (BPDA) staff could then go back to the Neponset Wharf team with a better feel for what elements locals hope to see on their small peninsula.
"Our goal is kind of two-fold," Czerwienski said. "The overarching theme is obviously that there is a certain amount of development pressure on the Port... We wanted to have a conversation with the neighborhood outside of a formal Article 80 meeting."
In a series of meetings focused on traffic, the environment, and design, neighbors objected to the scale and potential impacts of such a project in the Port.
If built, the development would replace the existing MarineMax/Russo Marine structures, and dredge and rehabilitate the marina. Plans shown at earlier meetings highlighted resiliency components to the peninsula's outer edge to deal with weather events and rising tides.
The site itself "has been underutilized," Czerwienski said. BPDA officials do not have a stated position on the best use for the land, he said, but "what they're proposing for the marina would be much needed, much welcome."
For now, the Neponset Wharf proposal is the only game in town, he said. The issues raised over the course of the planning process so far have been in response to the proposal before them, but planners want to take cues from the feedback to inform development going forward.
"We don't know of any other proposals popping up, but in the event that they do, we would like to have some idea of what the neighborhood is interested in terms of development," Czerwienski said.
Port Norfolk and Columbia Point are two key residential areas along the Dorchester coastline that will be eyed as part of ongoing city planning for coastal developments and climate resilience, he noted. A new initiative – Climate Ready Dorchester – is expected to start public work next year.
The Neponset Wharf project is "outpacing that process," Czerwienski said.
Planners will brief Port Norfolk residents on similar coastline projects in South Boston and East Boston, as well as what to generally expect from the Dorchester plan coming down the line. This is "the frame of development" through which the city is viewing coastal projects — addressing long term climate vulnerabilities while managing growth.
The agenda is "loose," Czerwienski said, and will end with a discussion on next steps.
"It's tough to bring a project forward that has no support in the neighborhood, no support from elected officials," he said. This meeting would be a step toward seeing what planners can do to "facilitate consensus."
Boston Planning and Development Agency staff are hosting the meeting on Wednesday (Nov. 14) at 6 p.m. at the Port Norfolk Yacht Club. For meeting coverage, check in with dotnews.com and next week's Dorchester Reporter.