By Jennifer Smith, News Editor
November 8, 2018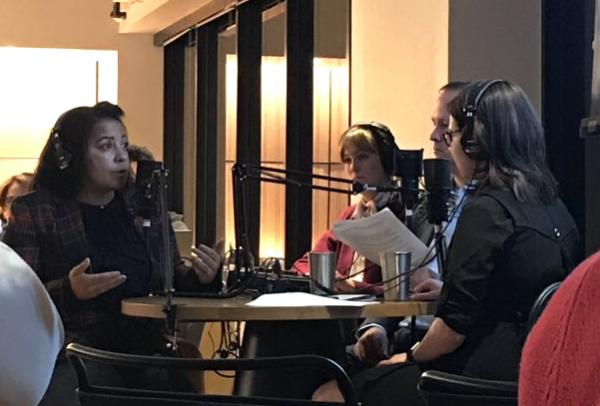 Fresh off her general election win, Suffolk County's next district attorney, Rachael Rollins, said she was geared up and prepared to push local law enforcement to do more. Rollins spoke frankly about her plans for the office and the current criminal justice moment at a live taping of The Horse Race podcast on Wednesday night.
Rollins, 47, is a biracial attorney and former prosecutor who led the legal departments for MassDOT and Massport. She ran on a progressive platform and came out on top of a competitive five-person primary field with 39 percent, and made her virtually certain ascendancy official with a wide 60-point victory over her independent opponent, Michael Maloney, on Tuesday.
She told hosts Jennifer Smith, Reporter news editor, and Steve Koczela, president of the MassINC Polling Group, that she sees her win as a mandate for reform.
"I do for sure," Rollins said. "And a mandate for change just overall. There's one lens, one view that we've always looked at this problem through. And these are good people, I just think we need a different lens and a different person looking at it."
Related reading: After primary victory, Rollins hopes to give DA office 'another voice, another perspective'
This term marks the first time that the Boston police commissioner, the Suffolk County sheriff and the Suffolk County district attorney will all be people of color.
Though she expects to have "a healthy relationship" with Sheriff Steve Tompkins and Commissioner William Gross, Rollins pointed out that neither is her superior in the post.
"I don't report to Sheriff Tompkins, Commissioner Gross," she told Smith. "And so, if Commissioner Gross and the men and women that are under him are doing a wonderful job, which the overwhelming majority of them do, we're not going to have any problems. But if there are a few members of law enforcement that are ruining it for everyone, we're going to have a problem. I will pay him the respect of making a call first, but I don't report to either of the people that you just mentioned."
Her election comes in the midst of a broader movement toward criminal justice reform. Reformer candidate Andrea Harrington won the Berkshire DA race, and incumbent Middlesex DA Marian Ryan did not win by much in her re-election primary.
Rollins highlighted efforts she believes need to be made toward addressing the rising number of women who are incarcerated, solving nonfatal shootings, and ensuring that the district attorney's office is representative of the community it serves.
The lens of those leading departments matters, Rollins said. Three black chief criminal justice officials in the Suffolk County area is not insignificant, she said: "We're going to be in the communities more talking to people and hopefully mending this strained relationships that some of the communities that are over policed and over prosecuted feel with law enforcement right now."
But competence should come first, she said.
"For the 400 years before that, when it was tons of the same people doing it, we weren't having conversations like this," Rollins said. "So, you know, for me, if we all do our job, I think it's going to be really important. You know, my father loves to say to me all the time, 'No one cares that you're a woman and no one cares what color you are. Are you going to do your job and are you qualified for the job?' And so I do think, though, in some circumstances perception matters. But for me it's about the work."
Earlier in the conversation, Rollins referred to a Washington Post article that noted homicides of white victims have a 90 percent solve rate in Boston, while black victims have a 42 percent solve rate. There were eight homicides in Suffolk County in the last 10 days, Rollins said.
One policy she proposed was that the DA's office would decline to prosecute 15 crimes "that overwhelmingly are crimes of poverty, mental illness or addiction," she said, after conversations with prosecutors, lawyers, and those with criminal records alike. By declining to seek jail time in those cases, instead redirecting offenders to community service or recovery programs, Rollins said it will free up funds to be dedicated to prosecuting serious crimes.
"That's what I want my money on," she said. "Not shoplifting or a homeless person sleeping in a garage."
Rollins won Dorchester and Mattapan in decisive fashion on Tuesday. She notched lopsided vote totals— many well above 90 percent in most sections, except in parts of Neponset where Maloney drew support from more conservative, white voters who also supported Geoff Diehl and Charlie Baker. Maloney won a single precinct in Dorchester— Florian Hall's 16-12— which also was the only Dorchester precinct to fall into the Geoff Diehl column against Sen. Elizabeth Warren.
The residential community that surrounds the firefighters' union hall is home to many law enforcement officers who were been outspoken in their support for Maloney and before him, Greg Henning.
Over the course of her career, Rollins said, she has represented and sued police. Though outgoing long-time District Attorney Dan Conley endorsed Henning as his successor in the primary — and Henning received the lion's share of campaign contributions from police associations — Rollins counts law enforcement as a group largely in her corner.
"I have the support of law enforcement and I have the support of five groups of prisoner associations in Shirley and Norfolk," she said. "And what my superpower is, is I bring people together that usually do not get along well with each other. So I'm proud to say, right, the police and prisoner associations... Boston City Council President Andrea Campbell and former Boston city council, President Charles Yancey. We have close to 100 endorsers and this is what it requires to do this job."
District and candidate demographics were a factor for much of the race, with concern from progressive groups that communities of color and reform voters would split among several candidates and leave the path clear for the conventional wisdom pick Henning to take the office. Rollins, who notes with some frustration that she is often pigeonholed as a black woman, points to her Irish heritage as equally significant.
"I love to say I was more Irish than a) Greg and Shannon [McAuliffe] and that, [b)], my family is Irish and poor," Rollins said. "My father was a veteran. He served this country. He was a corrections officer. I think people were looking and making all of these assumptions and you guys were all wrong because you weren't listening to people and you weren't seeing the changing demographics and you weren't realizing that the overwhelming amount of people that come in contact with the Suffolk County District Attorney's office do not look like anyone in this room. They look like me. They look like immigrants. They look like people that are poor. And so I was keenly aware of that and listening. And every time Greg got another endorsement and everyone was like, "oh my God, now this person and that person and every law enforcement agency." And I said, "Yeah, I know. Get back to work. We're knocking doors, we're getting the right endorsements, and we're going to outwork everyone." And we did. And that's why we won."
Jennifer Smith can be reached at jennifer.smith@dotnews.com, or follow her on Twitter at @JennDotSmith