By Daniel Sheehan, Reporter Staff
October 10, 2018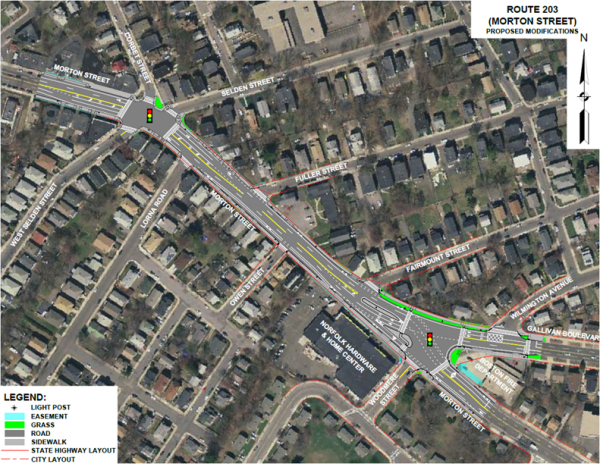 The Massachusetts Department of Transportation announced this morning that the redesign project planned for the Morton Street and Gallivan Boulevard intersection is now being advertised for construction bids.
Bids will be accepted through Jan. 8, 2019, at which point they will be opened, according to a MassDOT release. A winning bidder will then be identified and a contract will be awarded. Work-related activities are likely to begin later in 2019.
"We are pleased to be moving forward with the project to make improvements along Morton Street and at these two intersections so that pedestrians, bicyclist, motorists, and public transit users will have an easier time reaching the places they need to go in this area," said Highway Administrator Jonathan Gulliver in a statement. "We have appreciated the input and support from our state and local partners and members of the local community throughout the planning and design phase, and we look forward to selecting a contractor and beginning construction operations."
The intersection and roads in the immediate vicinity have become notorious over the years as a dangerous crossroads and a "high crash location." State Rep. Dan Cullinane, who had voiced concerns about delays to the project in recent weeks, was pleased to see the project officially move on to the next stage.
"This is a significant step forward on the comprehensive public safety improvement projects at the intersections of Gallivan Boulevard and Morton Street, and the intersection of Morton Street and West Selden Street," said Cullinane in a statement. "The intersection of Morton & Gallivan has been one of the most dangerous intersections in the entire City of Boston with separate and merging traffic patterns at high rates of speed next to a school, a large local business and a fire station. I am proud that we, as a Dorchester/Mattapan delegation, were able to fight for and deliver the $3.5 million in state funding being used for the upcoming roadway reconfiguration and traffic signal installation which will convert this very dangerous stretch of road into the safe intersection our community deserves."
The redesign project calls for a comprehensive safety overhaul that will install new traffic signals and raised medians, as well as new crosswalks, sidewalks, and bicycle lanes.
Construction is expected to be carried out in four phases: roadway widening, proposed island construction, sidewalk construction, and final paving. Access to this area is expected to be maintained throughout construction operations.