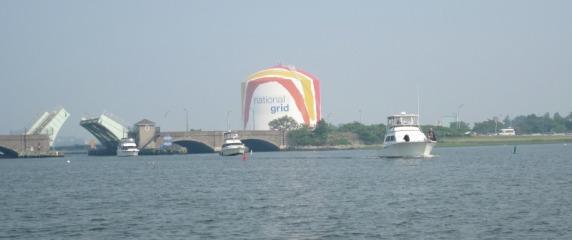 Repairs continue after roadway plate got caught on moveable span
The drawbridge that carries Morrissey Boulevard over the inlet between Dorchester Bay and Savin Hill Bay became stuck on Sunday evening, causing severe traffic delays that took a few hours to resolve. Repairs have continued over the last two days, resulting in some lane restrictions on the busy waterfront boulevard.
The problem started around 6 p.m. on Sunday when the John J. Beades Bridge was opened to allow a boat to pass into Savin Hill Bay. As he began to close the span, the bridge operator spotted two people "trespassing" underneath the far side of the bridge and stopped the closure to "avoid injuring these individuals."
It was then that the bridge became stuck in a partially open position, unsafe for allowing any traffic topside.
"The far side span was stopped immediately, but in doing so this resulted in the nearside span becoming stuck as the 'transition plate' on the roadway approach was caught underneath the 'heel' of the moveable span. The bridge operator could not fully lower the span or open the traffic gates for vehicles," according to a statement from the state's Department of Transportation.
It took work crews from 6 p.m. Sunday until just before 10 p.m. to make get the bridge fully lowered. During that time, this key stretch of Morrissey was closed off, including the off-ramp from I-93. More repairs were conducted on Monday and Tuesday, according to MassDOT spokesman Patrick Marvin.
The bridge is routinely inspected every two years and also gets a "special member inspection" each year to look at the safety of the concrete arches under the span, according to Marvin. It was due to be inspected again this month.
Named for the late Dorchester state senator, the Beades Bridge underwent a major, $9.1 million reconstruction over a two year period between spring 2001-summer 2003. Prior to the lengthy rebuild, the bridge was the source of frequent traffic headaches as the aging span often became stuck in the upright position. Sunday's incident has been a rarity since the 2003 completion of the improvement project.