By Jennifer Smith, Reporter Staff
May 11, 2017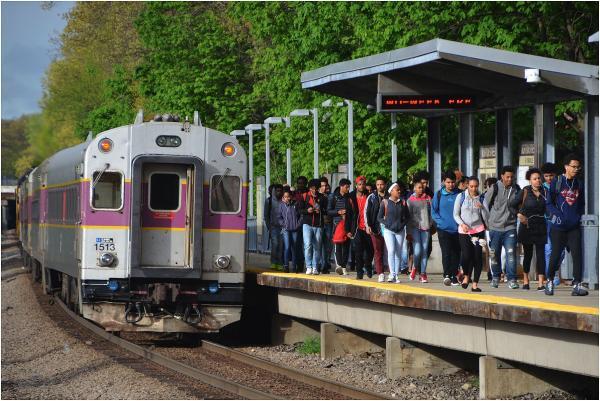 Two weeks of free riders on the Fairmount Line kicked off on Monday, a bid to boost ridership on the only commuter rail line to operate entirely within Boston.
A group of elected officials and activists stood outside Morton Street station in Mattapan on the brisk morning to ride into South Station with some of the neighborhood's commuters. Among the group was US Congressman Michael Capuano, who is financing the two weeks of rides with $53,000 from his campaign fund.
The Fairmount Line runs 9.2 miles through Dorchester, Mattapan, and Hyde Park on its way to downtown Boston. Riders between South Station and Readville will not be charged a fare at any point along the line until Friday, May 21.
State Rep. Russell Holmes called Capuano's move an "innovative" one.
"The idea that this would come out of his campaign fund is not one any of us thought of except for him, and we are very appreciative for that," said Holmes.
The line has had issues in the past with timeliness and reliability. After the Boston Globe reported in October 2016 that the Fairmount Line saw among the highest rates of cancellations and delays across commuter rail lines, Keolis Commuter Services stepped up on-time performance. According to a spokesperson for Keolis, which manages the commuter rail for the MBTA, Fairmount Line trains are now on-time 97 percent of the time.
Still, when on-time means a train every 45 to 60 minutes, advocates for the line say it can be a risky proposition for working riders if they miss their intended train. Long-time proponents want to secure additional support and funding for the line, calling for service comparable to subway and light rail lines within the city.
"This is our rapid transit line, this is our transportation," said Mela Bush-Miles with the Fairmount-Indigo Transit Coalition. "It should not be privatized, I just want to say that, and we want to be sure we don't lose it to something down the line that we're not interested in seeing happen, and lose all the work that we've done so far."
On a state transit level, the line is somewhat of a chicken-egg situation. It regularly transports fewer riders than other lines — though a Boston Foundation study found that average weekday ridership has tripled since 2013 to 2,260. The increase comes after the addition of three legally-mandated new stations — at Newmarket, Talbot Avenue and Geneva Avenue, with a fourth station due to be added over the next two years at Cummins Highway in Mattapan.
"One of the nicest things we can do, I think, is try to help people along the line, try to help the line improve," Capuano said. "And as more and more people ride this line, it makes our advocacy easier at the state level and the federal level to argue for more money and more investment and more frequent service and that kind of stuff.
"You can't do that if people aren't riding the train, and that's what this is all about, trying to get the community and its services together," said Capuano.
The Massachusetts Department of Transportation is in the process of evaluating potential changes to the commuter rail system to better connect it with the main T branches, transit officials said Monday. That could involve measures like installing fare collection kiosks, streamlining the zone-based fare system in exchange for a distance-based model, and developing a new phone application for riders.
State Reps. Holmes and Dan Cullinane, who each represent part of Mattapan, said they were eagerly anticipating kicking off construction for the planned Blue Hill Avenue station by Cummins Highway.
They expect to get a shovel in the ground in the next month, Holmes said. The whole construction timeline is projected to take a year and a half, he said, with an ideal completion date of April 2019.