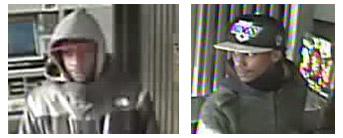 Transit Police are investigating what they are calling "targeted" gunfire Wednesday morning at the Shawmut Red Line station.
Police say gunfire erupted around 11:50 a.m., but that nobody was hit.
They released surveillance photos of two "persons of interest" they want to talk to about the incident.
Police say both appear to be 18. One is 5'10" and thin. He wore a two-tone light-gray NorthFace jacket, with white stripes on the shoulders, a gray hoodies, dark pants, a baseball cap and red Adidas sneakers. The other is about 5'6" and thin, with braids. He wore a gray jacket, a black LA Kings cap with a gray visor, blue jeans and tan workboots.
If they look familiar, contact Transit Police detectives at 617-222-1050, or send an anonymous text tip to 873873.