By Will Taylor, Special to the Reporter
November 14, 2013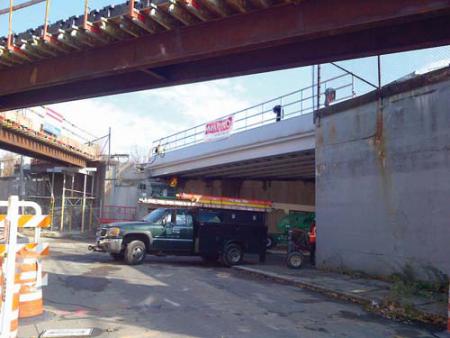 Clayton St. bridge: After months of preparation, workers swung a new bridge into place above Clayton Street over the Veterans Day weekend. The new span, pictured above, carries Red Line trains above the street en route to and from Fields Corner station. Photo courtesy MBTA
"Get in and get out as fast as you possibly can. I think people prefer [this] to the pain of years of construction."
The speaker was State Transportation Secretary Richard Davey, and he was referring to the guiding principle behind the installation over the weekend of a new $5.5 million bridge above Clayton Street near Clam Point that shut down Red Line train service between Ashmont Station and JFK/UMass from Friday evening to Monday morning.
Hailing the project as a saver of time and money, Davey, who was at the site on Saturday, said the traditional method of bridge installation would have taken up to 10 months to complete. "Governor Patrick has been pushing us to work quickly, to be innovative and creative, and this is literally a heavy lift bridge that we will be rolling into place," he said.
"If we did it the conventional way, it would have been upwards of $7 or $8 million," said Davey, who emphasized that smart infrastructure investment is a central goal of the Patrick administration. "We're trying to be creative and thoughtful and, frankly, continue to find ways to squeeze nickels and stretch the dollar as far as we can. So taxpayers should know that's what's happening here tonight."
The new bridge replaces a 112-year-old span that had a fatigue rating that had fallen below statutory limits, according to an engineering manager on the project. The new structure was pre-assembled on a staging area next to the existing bridge and carefully set into place as a single piece on Saturday night using heavy lifting technology called a self-propelled modular transporter. The job site was managed by the general contractor Barletta Heavy Construction.
The Clayton Street bridge swap was the not the first time a transportation span was replaced by using the Accelerated Bridge Construction (ABC) technique. In 2011, a new bridge over Woodrow Avenue in Dorchester on the Fairmount Line was installed using a similar weekend-long time frame. A second Fairmount Line bridge that carries cars over the tracks on Morton Street will be replaced in the same manner next year.
For his part, Davey is confident that the ABC method will prove useful in many future projects as well. "Simple bridges that don't have any historical significance, we can absolutely demo and roll in for sure," he said. As to the inconvenience resulting from the shutting down of Red Line service over the weekend, Davey recalled that a State Street station project took almost seven years "in large part because we kept the station open." In contrast, replacing a segment of the T with a shuttle service for one weekend is "a short term inconvenience but a long term benefit for our customers."
Davey signaled that the notion of enduring short-term inconvenience for the sake of long-term benefit is behind MBTA construction strategy citywide. "This is why we're shutting down the Callahan Tunnel, this is why we shut down the Museum of Science station."