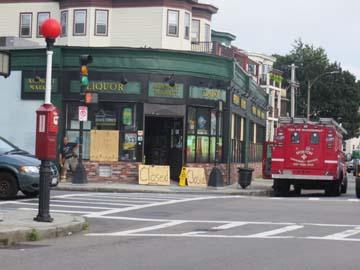 Update (Thurs., July 25)— The manager of Ashmont Market, Jay Patel, said today that the store has re-opened for sale of groceries, beer and wine, despite a Monday fire that closed its doors for three days. The store's popular deli, however, remains closed as repairs begin.
The market at 630 Adams Street sustained estimated $100,000 in damage that needs repair, according to Boston Fire Department spokesman Steve MacDonald.
The one-alarm fire call came in just after 1 a.m. on Monday and firefighters were on the scene until 4 a.m.
"It was determined to be an electrical short-circuit and then the fire got up into the ceiling and travelled along the ceiling," Firefighter MacDonald said. "There were no injuries. There was lots of smoke damage."