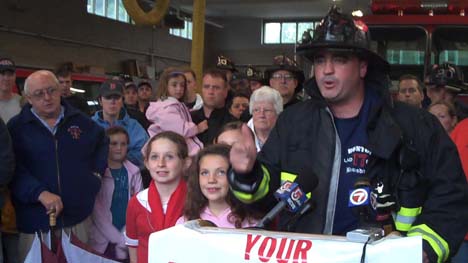 Union rips Menino, Fire Department: Ed Kelly, president of Boston Firefighters Union Local 718, speaks at a press conference at the Engine 20 fire station on Wednesday, July 1, 2009. Photo by Bill ForryA union representing Boston firefighters condemned Mayor Menino and the fire department today during a press conference held at a Neponset Avenue firehouse— Engine 20—one of three firehouses across the city that have been shut down for the day by the department.
The other two firehouses closed today are in East Boston and South Boston. Today's so-called "brown-outs" were prompted by an aggressive new policy meant to scale back overtime spending. In the past, replacement firefighters were hired on — at an overtime rate— to replace those who called in sick for their 48-hour tour. Under a new rule announced on Tuesday, the department will now only hire a certain number of replacement firefighters to staff companies and then temporarily close firehouses as needed as a cost-savings measure.
No firefighters have been laid off under the new policy, which could impact as many as four companies citywide per shift.
Edward Kelly, the president of the Florian Hall-based Local 718 union unloaded on the Menino administration for "putting the peoples of Dorchester and East Boston and South Boston's lives in jeopardy." Kelly spoke from a podium adorned with a sign proclaiming, "You and your family are in DANGER!"
Kelly said that the brown-outs were an attempt to embarrass the fire fighters at the expense of public safety. He pointed to an incident on Pierce Ave. this afternoon - in which a resident was stricken by a medical emergency. Kelly claimed that the fire company that responded to the scene from their Peabody Square house were there in four minutes. Had the Engine 20 house been active, that truck would have responded in two minutes, Kelly said.
"Seconds count. Lives count," said Kelly. "This is outrageous. We're needlessly putting lives in danger," said Kelly.
"This is the beginning of the fiscal year. This city has money. There's $750 million in the general fund. They can afford to staff the firehouses in this city," said Kelly.
Firefighters have been "volunteering" to staff the Neponset Ave. firehouse today, against the orders of the department's brass.
Roderick Fraser, the commissioner of the Boston Fire Department, said Wednesday that the union's event is a "stunt" aimed at embarrassing the mayor instead of acknowledging the underlying problem: phony sick days.
"It's not leaving the neighborhood in peril," said Fraser. "What the union won't tell you is that we take companies out of service every day for maintenance and training, usually to Moon Island (in Quincy). They are not available to respond while they're down there. And we have other companies cover them."
Fraser said up to 8 companies per shift are effectively browned-out for maintenance and training during any given shift. Kelly refuted Fraser's position, claiming that training and maintenance schedules do not equate with unmanned firehouses.
"We hired 15 people on overtime today," Fraser said. "We're budgeted to hire about 12 people per day [in replacement service]. We are trying to live within our budget. We have $12.25 million for overtime in the new fiscal year," Fraser said. "Today, we had 33 total absences. It's about normal, but it's high. We've had a longstanding problem with sick leave abuse in this department."
Fraser attributes the high absentee rate to a "subset of people who look at sick days as another personal or vacation day."
"This city is well covered. We have a very professional force, but there are always people who want to take advantage of the system," Fraser said. "This is a political stunt, really. We've developed a budget plan that didn't close any stations, didn't lay off any firefighters and there were no demotions. The union's saying we want more. Well, people need to wake up and realize we have economic hard times.
"If the union wants to help, encourage their members to come to work. If everyone showed up to regular tour like they're supposed to, we wouldn't be browning out anybody."
Kelly countered by saying that, "We get sick just like everyone else."
"We're down 200 firefighters since I came on 12 years ago, said Kelly. "That's why overtime costs are up. If they hired more firefighters, overtime costs would go down. It's just that simple."
City councillor-at-large Michael Flaherty, who is running against Menino for mayor this fall, attended the press conference as a show of support for the firefighters.
"It's these neighborhoods today. The question is, who's neighborhood will it be tomorrow.
Our mayor is allowing his fight with the firefighters to get in the way of public safety," said Flaherty.
Flaherty blamed Menino's administration for failing to address allegations of high absenteeism in the past.
"This administration has sat on its hands and turned their heads from these abuses," Flaherty said. "Am I outraged about sick time and pension abuse? You bet I am."
Flaherty says he's proposed a tracking system that would identify trends of sick time abuse and says the Menino administration's present system is inadequate.