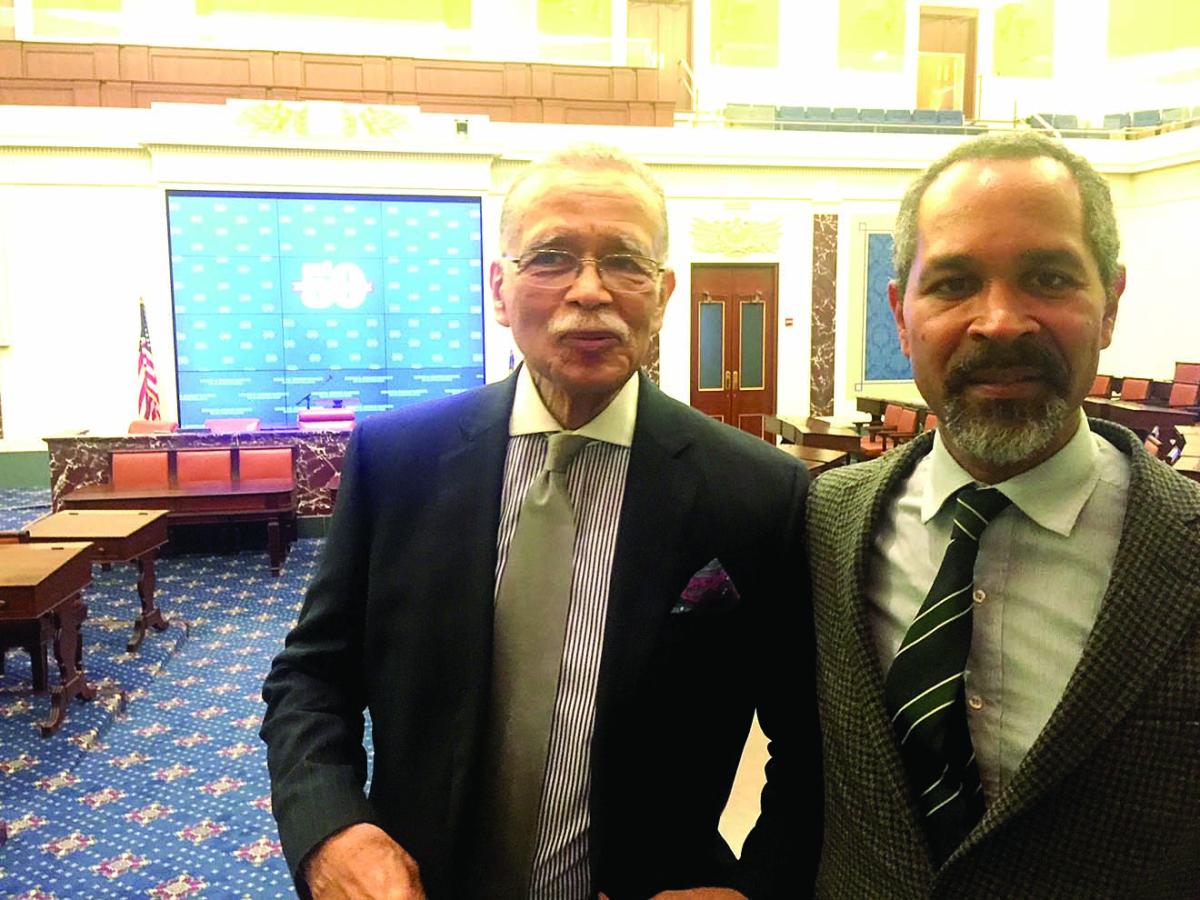 Melvin B. Miller and Yawu Miller. Bill Forry photo
The Bay State Banner, the weekly newspaper based in Dorchester Lower Mills that has been laser-focused on Boston's communities of color since its foundation in 1965, was sold on Feb. 28 to a new ownership team. In one sense, the transfer means the end of an era as the Banner's co-founder, Melvin B. Miller, will no longer have an active role at the news organization. But, on the upside, the transition is good news since the new owners are also Roxbury-based, African American business leaders who say they plan to enhance and grow the business into other parts of the region.
Mr. Miller, 88, has been a steady hand at the Banner for 57 years and is rightly hailed as a champion of civil rights and community journalism. It should be noted, too, that his nephew, Yawu Miller, has been an essential element in the Banner's success since the early 1990s. Now serving as a senior editor, Yawu Miller plans to stay on in an editorial capacity at the Banner, which is welcome news to those of us who count ourselves among the Banner's loyal readers.
As we well know here at the Reporter, which later this year will mark it 40th anniversary in print, keeping a robust and relevant news organization alive and well in the neighborhoods of Boston for a sustained period of time is no small achievement. It's an exercise in endurance and, yes, sometimes an act of defiance in the face of increasingly daunting odds. Ours is an industry that has been transformed several times over in the years since Mr. Miller and his family launched themselves into the fray.
In a practical sense, it has never been easier to disseminate news and information to a chosen audience over the various channels of the internet. But, as a business model, producing a viable form of community news has never been more challenging. We salute the new owners – Ron Mitchell and Andre Stark – for their courage and commitment to ensuring that Boston continues to have a much-needed platform that seeks to amplify the voices of our city, particularly the African-American and Caribbean-American communities.
The Banner's longevity is a tribute to the Miller family and the mainly Black Bostonians who dedicated themselves to its cause, including the businesses and institutions that supported it through advertising, which remains the key revenue driver to underpin our work.
But no news outfit can survive and thrive on the laurels of past achievements. The Banner has bucked the trend by consistently breaking news stories and creating important content that has been of value to Bostonians of all ethnic origins and generations. That's a credit to Mel Miller and, in more recent years, to Yawu Miller, who has distinguished himself as one of Boston's most knowledgeable and respected chroniclers on matters of city politics, development, law enforcement, and justice. It is heartening to know that Yawu's role at the Banner will continue.
Best of luck to the new ownership group. We are rooting for your continued success.