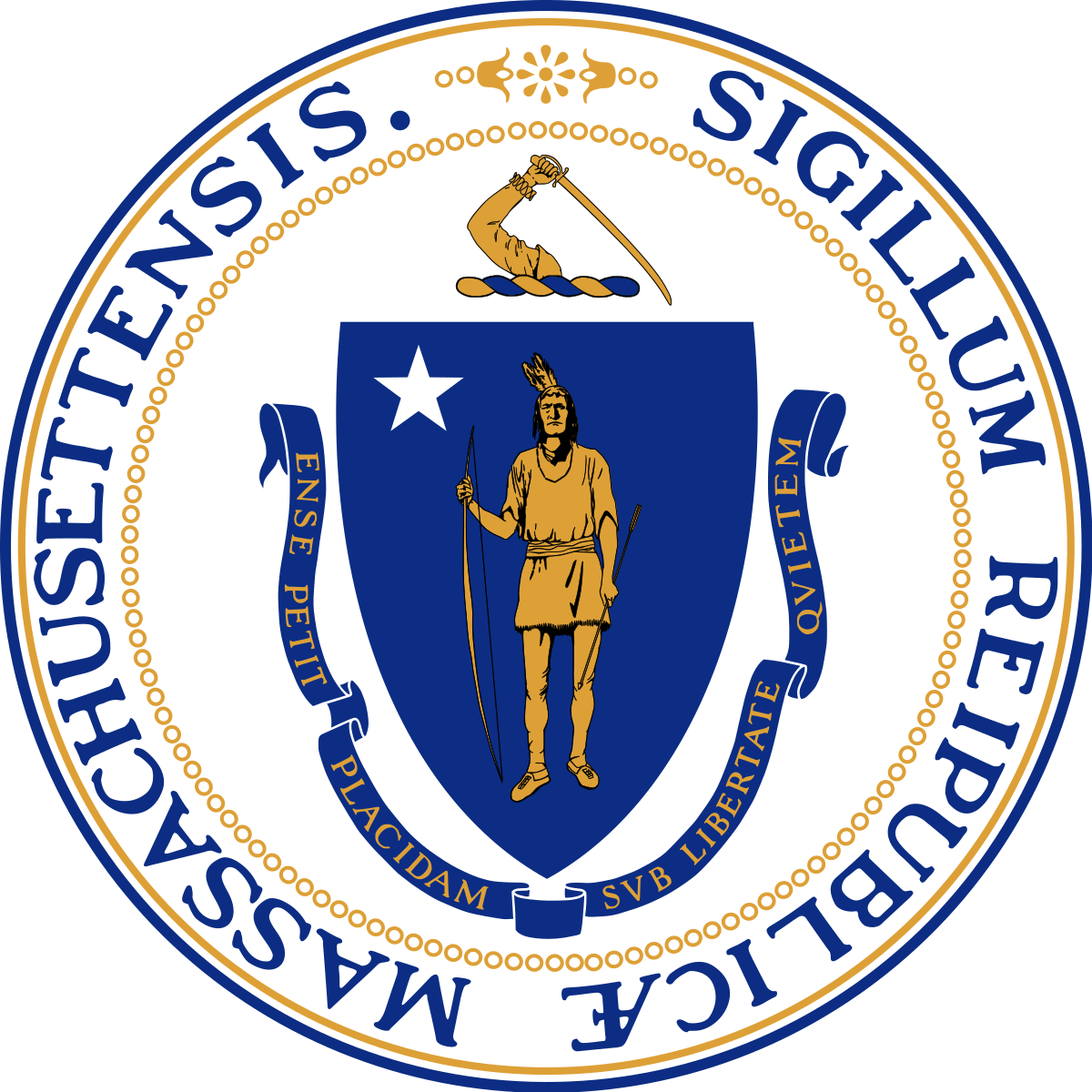 By Jessicah Pierre
Special to the Reporter
In October 2017, Massachusetts, in a move strongly supported by Gov. Charlie Baker, removed its one and only Confederate monument, a memorial dedicated to southern soldiers who were once imprisoned in Fort Warren on Georges Island in Boston Harbor.
That same year, Baker's spokesperson, Lizzy Guyton, told Boston Magazine that "Gov. Baker believes we should refrain from the display of symbols, especially in our public parks, that do not support liberty and equality for the people of Massachusetts."
It was a step in the right direction. But a lonely Confederate monument on a Harbor Island is far from Massachusetts's only symbolic display of inequality. Our state's flag and Great Seal is one that represents the historical genocide and threats against Native people. And a growing number of activists are joining Native American leaders in urging us to reconsider the Commonwealth's symbol.
The seal depicts a Native American holding a bow in one hand and an arrow pointed downwards - representing peacefulness or pacification. Just above the shield, is a colonial arm that raises a sword. According to the website changethemassflag.com, the weapon is model off a sword owned by the 17th century Pilgrim commander Myles Standish, who was notorious for killing Native Americans.
David Detmold created the website after joining a movement in his home town, Turner Falls, to change the high school's mascot that at the time was a stereotypical "Indian" and had been the school's symbol for a century. After two years of intense dialogue, the superintendent and the school committee voted to make a change in 2016.
"A bunch of us who lived in the community were uncomfortable with the logo of our local high school that held a false representation of Native groups in the northeast," Detmold said. "Local native communities said this mascot didn't honor them, so they were unanimous in support of changing it."
First nation groups have long argued that the Massachusetts flag is an outdated symbol of violence and oppression that— just like Confederate monuments— should be removed from all state property, including the flag.
"The flag is a reflection of the ongoing genocide of native people that has been happening in Massachusetts and the New England area since the 1630s," said Haartman Deetz, a tribal member of the Mashpee Wampanoag and an outspoken critic of the state flag. "This is a flag that celebrates colonial exploitation and dissemination of native people," he added.
Included in the Massachusetts' flag is the state's Latin motto, "Ense petit placidam sub libertate quietam," which literally translates to "With a sword, she seeks peace only under liberty." Noted Deetz: "The sword is certainly a reminder of the threat that native people have faced, and it continues today."
While the debate about the flag and seal is heating up about the flag, it's not a new issue.
For the past 34 years, former state Rep. Byron Rushing, with the support of the Massachusetts Commission on Indian Affairs, has every two years introduced legislation meant to change the flag and seal. And every two years since 1984, the bill, which would set up a commission to include state legislators and representatives of Native Nations within the borders of Massachusetts to investigate changes, has been bottled up in committees, and never passed. The panel's recommendations for any changes would then have to be approved by the Legislature.
Last year, the campaign for change began to attract a bit more support when four Western Mass towns— Gill, New Salem, Wendell, and Orange— passed resolutions in support of Rushing's legislation. Despite this added momentum, the bill didn't make it out of the House Ways and Means Committee. So organizers are now back to the drawing board as they continue to host town meetings— including one earlier this month in Cambridge—to spark more dialogue.
Arguments against a change tend to lean on fiscal hardship. Since the state seal is not only on flags, but also a part of the State Police logo, public officials such as Greenfield Mayor William Martin have said that the state doesn't have enough funding to purchase new state flags and uniforms.
Haartman Deetz calls that a "bogus argument," saying, "The state can simply phase out the existing flag and seal. No one has an expectation that they're going to tear down the state and seal overnight. How many flags at state buildings and police cruisers are over five years old? We can gradually phase in a new design as the government updates a lot of these monuments."
David Detmold argues that this price isn't too high given the harm being done by keeping this symbol. "Change is difficult, but our flag is a deep-seated symbol of white supremacy, just like Confederate war statues and Confederate flags in bars in Mississippi," he argues. "It's not just about the symbol; it's about giving up a racial oppression that people fought long and hard for."
Jessicah Pierre is a Dorchester resident.