Marc Murphy,9, and Michael Murphy, 4: Fourth grader Marc launched a toy drive three years ago that continues to grow. Photo courtesy Murphy familyWhen the Murphy family of Neponset hit the mall last week for their annual Christmas shopping excursion, they no doubt raised eyebrows at the checkout counters. The haul of plastic bags they carried out of the Target store and into their trunk could have tested the mettle of even Santa's sleigh. And some may have wondered why the Murphy boys— Marc, 9, and Michael, 4— were along for the ride.
The gifts never made it back to the Murphy clan's home in Neponset, of course. Instead, they were taken straight to the ABCD Family Service Center on Claybourne Street from which they'll be given out to less fortunate families this season.
This is the third consecutive Christmas that the Murphys have made this toy-drive run. And it all started because Marc, then aged 7, saw an item on the news that a Toys for Tots trailer had been burglarized north of Boston.
"Marc said, 'What does that mean?' " his father, Ed Murphy, recalled. "And I told him, it means some kids may not get Christmas gifts this year. Then Marc said, 'Well, I want to do something about it.' "
So he organized a "dress-down" day at his school, Pope John Paul II Catholic Academy in Neponset. Each student paid a dollar or more for the right to wear something other than their school uniform. The day raised $250 and Marc gave it to the ABCD Family Service Center.
Last Christmas, he branched out and added the Lower Mills campus of the Catholic academy to the cause. This year, Marc and his young classmates on the two campuses raised more than $700 for their donation. Marc also roped in his friends at Modern Taekwondo on Gallivan Boulevard, who set up a donation box in their studio.
Last weekend, the Murphys made their now-annual trip to the store to load up on toys. Marc's brother Michael, 4, has caught the spirit, too. This week, he pulled out his toy collection and told his parents he wanted to give them away to kids who needed them more.
Over on Claybourne Street, ABCD director Eric Mitchell says the generosity exhibited by young Marc Murphy and his family is a marvel. "Marc has learned the value and power of giving at a very young age and it's life changing," says Mitchell, who notes that donations from the Murphys and groups like the Dorchester Board of Trade this year will help hundreds of local families.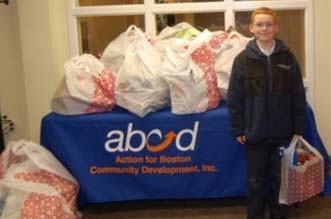 Marc Murphy drops off toys"That is what traditions are and that's how children learn," Mitchell added. "It becomes normal for them. It's obvious that [the Murphys] want Marc and his brother to normalize giving to others. He has really seen how one person can impact the lives of many with a simple gesture."
The sadness and grief that have gripped our nation this past week threaten to overwhelm us with emotion. That's as it should be. But, we also have to remember that there are many more good people in this world, including young people like Marc Murphy. That's the nation we aspire to be. That's what will get us through.
Merry Christmas.
– Bill Forry