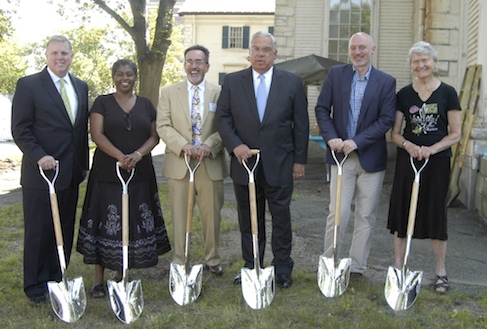 First Parish Church renovations: Pictured at Tuesday morning's ceremony were: Senator Jack Hart, Tina Chery, Rev. Art Lavoie, Mayor Tom Menino, Jeff Gonyeau of Historic Boston, Inc. and Carol Johnson, chair of the Board of Designators of the Henderson Foundation. Photo by Bill ForryThe mood was upbeat outside First Parish Church on Tuesday morning as a crowd assembled for the official launch of a $5.2 million restoration project aimed at saving the 115-year-old white church that soars from the crest of Meetinghouse Hill.
The grand building has seen better days: Peeling paint, crumbling chimneys, loose shingles, and old, sieve-like windows are ganging up on the once-grand symbol of olde Dorchester. Windstorms last spring sent water flowing into the sanctuary, damaging the church's historic organ. And the steeple that once tippy-topped its wedding-cake tower was carefully lowered from its lofty spot six years ago and placed on a vacant lot across the street. There it sits still — on the spot of the old Dorchester Lyceum, or town hall, a historic building that was unfortunately lost to history when it was demolished in the 1950s.
The price tag for making any of these fixes — let alone all of them— would be an eye-popping proposition, even for a deep-pocketed parish. It's especially so for the small Unitarian Universalist congregation that meets inside First Parish Church today. Thankfully, there is ample good will outside the congregation for this house of prayer, which has a long tradition of opening its doors to the neighborhood at-large.
That track record of good works and hospitality is as valuable as the age of the church itself — and its lineage as the first worship place in the settlement of Dorchester itself, back in 1630. The church has other assets — including a silver cache at the Museum of Fine Arts— that will be sold to help defray the costs. But, those treasures won't get Rev. Arthur Lavoie's flock all it needs to pay the bills, which will start mounting this summer as work begins on high-priority masonry repairs to the building's parapets and chimneys. To do everything they need to do to make the building viable for generations to come, the reverend and his congregation need help.
Earlier this year, in an interview with the Reporter, Rev. Lavoie underlined the vision that First Parish's community has for the future.
"The consensus is that the more important thing is to save the building and not just because it's a historical building. We feel this church has always had a mission in the community and we need to enhance that and make that much more clear and use the building to serve the community.
"There is no reason to restore the building if it's just going to be used one day a week, on Sundays. That's not a good use of any of our resources or keeping this building going."
Like many of his predecessors, Rev. Lavoie has proven with his actions that First Parish Church's mission of serving Dorchester is alive and well. Now it's up to our community to rally to his side and help defray the costs of repairs.
To learn more about how you can help, see firstparishdorchester.org.