By
Anonymous
October 20, 2010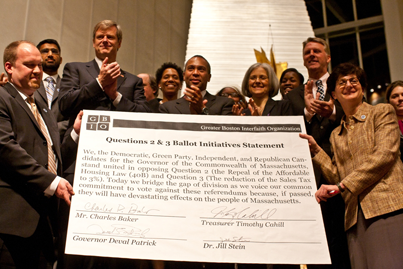 GBIO consensus: Charlie Baker, Gov. Deval Patrick, Dr. Jill Stein and Treasurer Tim Cahill stand united against questions 2 & 3. Photo by Erik Jacobs Greater Boston religious leaders this week asked the four candidates for governor to pledge that, once in office, they will create a comprehensive dwelling strategy for Haitian refugees and advocate at the federal level for legal status that will allow these families to work. All four candidates – Gov. Deval Patrick, the Democratic incumbent, Republican challenger Charlie Baker, independent candidate Timothy Cahill, and Green Rainbow Party candidate Jill Stein – said "yes" at a Sunday forum at the Temple Israel of Boston.
"The best social program is a job," Cahill said.
More than 1,100 leaders from the Greater Boston Interfaith Organization gathered to hear the candidates take on housing for Haitian refugees, youth jobs and violence prevention, usury, and the three state ballot initiatives.
According to the Office of Refugees and Immigrants, there are between 3,000 to 4,000 Haitian refugees temporarily housed in hotels, motels, and homeless shelters across the commonwealth. Several thousand more are staying with relatives.
Haitian refugees fled to Massachusetts in the aftermath of the disastrous earthquake that ravaged their country in January.
Two advocates in the Haitian community, Jean Vatelia and Dieufort Fleurissaint, are leading the effort to make housing and a legal status to gain jobs for refugees a top priority for GBIO.
"We know this is a small victory, but we have to start somewhere, and this is a very good first step," Vatelia said.
In his opening remarks, Reverend Hurmon Hamilton, the president of GBIO, started with a forceful call for "liberty and justice for all" for immigrants, Muslims, and families who've been affected by violence.
He then read a lengthy list of names of recent victims of violence and said, "We expect the next governor to remember them. Not just with words, but with funding summer jobs and violence prevention programs."
Patrick said he would continue to support youth violence prevention programs, adding that his administration has funded the programs at $51 million over the last four years. "If we need to patch it together, we will patch it together and we will make these resources available annually," he said.
All four candidates are opposed to Questions 2 and 3 on the ballot. Question 2 would repeal an affordable housing statute and Question 3 would take $2.5 billion out of the state budget.
Question 1, which would eliminate the sales tax on alcohol that was imposed in 2009, was opposed by Patrick and Stein. Baker and Cahill support the measure.
"I pastor a church in South Boston," Rev. Burns Stanfield said. "I've seen the devastation of alcoholism and the ravages of addiction. But I've also seen young adults get it together in recovery, and what's crucial for them are the very rehab and recovery programs that Question One would decimate."