By Kevin George, Special to the Reporter
May 17, 2023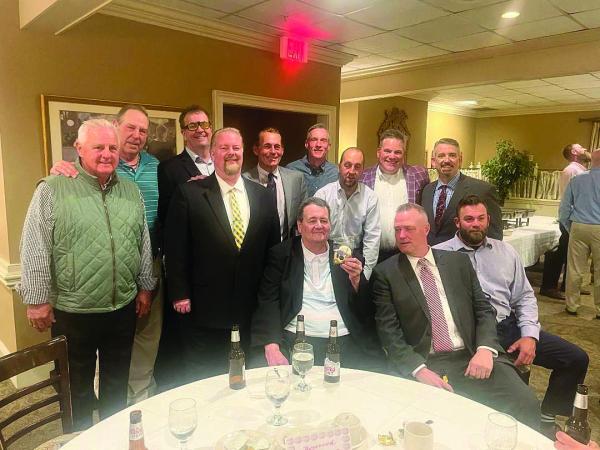 Nine people were inducted into the Yawkey Baseball League's Hall of Fame during a dinner held at Milton's Common Market last Saturday (May 13). The men's baseball league, which started in the 1970s, included many Dorchester teams over the years, including St. Margaret's, Mill Stream, the McKay Club, Meeting House Hill, Hagan Square Royals, Dorchester Kings, McKeon Post, Dorchester Jets, Boston Padres, ADSL, and Savin Hill.
In 1990, the Yawkey Foundation sponsored the 16-team league, which increased its game schedule to 32 games under the leadership of Dorchester's Dave McKay, who organized All Star games at Fenway Park against the US Military All Star Teams and Coors Light Silver Bullets.
The nine inductees last weekend included AJ 'Booch' Bucciarelli of the Revere Rockies, umpire Dominic Dimare, Sean Gildea of Medford Maddogs, Russell Grant of Roslindale Parkway, Tony Iaffola of the Brighton Brewers, John Smokey Moore, Coach Malden, Rob Stephenson of South Boston Saints, and Drew Tambling of the McKay Club, and the 1999 Somerville Team.
Dorchester is well-represented in the YBL Hall of Fame. Members include Dave McKay, players Scott MacPherson, Shaun O'Sullivan, Kevin George, Doug George, Dan Elliot, Dave Bonnell, Tony Urso, Chris Anderson, Dan Kazmouski, Mike Kazmouski, Peter Quinn, Brian Conners, John Riley, Wayne Selden, Dave Proctor, Ray Muise, Jeff Potenza, and James Whitfield. Coaches Jim Drury, John Quirk, Steve George, Ed Neal, Billy Cunningham, and Buzz Buzzell. Umpires include John Glynn, Mike Barbuto, Peter Williams, and Jim Kelly.