By Gintautas Dumcius, Managing Editor
August 4, 2023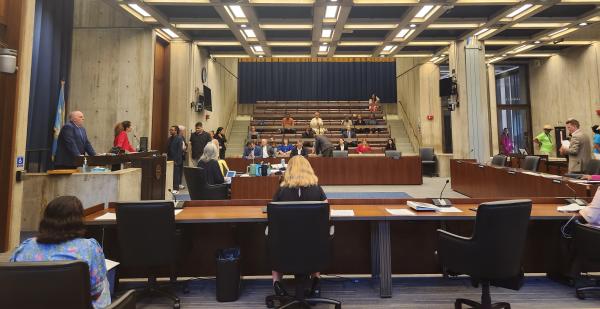 The Wu administration is expected to file an early voting plan with the City Council, ahead of its meeting next week. The Sept. 12 preliminary is set to feature four district-level races, including a seven-way race to replace District 3 Councillor Frank Baker.
Early voting has become a popular election reform in Massachusetts. Last year, nearly half of voters cast ballots that way in the statewide primaries and the general election.
When presented with the opportunity to vote by mail, vote early in-person (meaning they can walk into a designated polling location and pick up, fill out, and cast a ballot) or vote in-person on Election Day, 37 percent of ballots in November were cast via mail, and 7.5 percent were cast through early in-person voting, according to numbers from the state's elections department. The percentage was higher for mail-in voting in the September primaries (45.6 percent) but lower for early in-person voting (4.6 percent).
As Boston's 2023 municipal election approached, there had been some confusion over whether the Sept. 12 preliminary would proceed with early in-person voting. One District 3 candidate, Savin Hill labor lawyer Matt Patton, was initially told this week that the city would have mail-in voting but not early in-person voting.
But after his inquiry, the City Council is now expected to receive from the Wu administration a proposal for early in-person voting. State law says municipalities have to opt into in-person early voting for municipal-level elections.
The Council is scheduled to meet on Wednesday, Aug. 9. The City Council's president, Ed Flynn of District 2 (South Boston), is also serving as acting mayor while Mayor Michelle Wu is on a family vacation.
"Because of timing constraints caused by the redistricting process, the Election Department did not initially expect to have the necessary time to prepare for early in-person voting for the September preliminary municipal election," a Wu administration spokesman said in a statement Friday, referring to the redrawing of the nine City Council districts that wrapped up in late May, after a federal court order sent councillors scrambling to come up with a new map.
"The Elections Department is working to finalize logistics for early in-person voting for the preliminary election and is committed to ensuring every resident voting on September 12 is able to make their voice heard through various options including voting by mail, utilizing ballot drop boxes, and voting in person on Election Day," the spokesman added.
As for mail-in voting, eligible voters can expect to receive postage-paid vote-by-mail applications, and the applications must be sent back out. The applications have an arrival deadline of 5 p.m. on Tuesday, Sept. 5, at the Boston Elections Department.
Voters will also be able to place their ballots in 21 drop-boxes across the city. The drop-boxes will be available until 8 p.m. on Sept. 12, or in-person inside City Hall by 8 p.m. that same day.
Aside from District 3, there are preliminaries slated for Districts 5 (Hyde Park and Mattapan), District 6 (Jamaica Plain and West Roxbury) and District 7 (Roxbury and Dorchester). Because there are eight at-large candidates running for four seats, there is no preliminary for them.
"I commend Mayor Wu's administration for working to reinstate early in-person voting because it increases access to our democratic process," Patton said in a statement Friday. "The opportunity to vote early makes the ballot more accessible for working parents, low-wage workers, seniors, and so many other Bostonians."