By Bill Forry, Executive Editor
May 31, 2023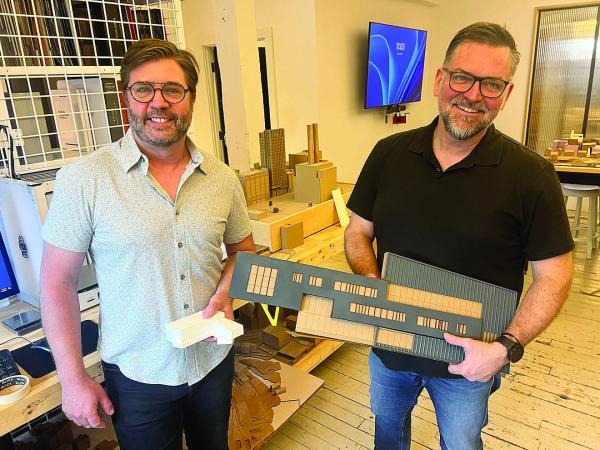 Dot Block, the large mixed-use community along Dorchester Avenue near Glover's Corner, is set to welcome its first residential tenants in a couple of weeks. When they move in, they'll be close neighbors of the two architects most responsible for the project's design: Kevin Deabler and Eric Robinson.
The college buddies-turned-business-partners own and manage RODE Architects, one of Boston's most well-respected architectural firms that is also the most prolific in terms of the number of projects they've worked on in Dorchester.
That, too, it seems, is by design.
Deabler and Robinson attended North Carolina State together and stayed tight as their early careers took flight. Robinson was the first to discover Dorchester, moving into a Savin Hill fixer-upper with his wife in 1999. Deabler bought a house on the same street a few years later. In 2005, they started collaborating on small local projects – think bathroom renovations – in Dot. Today, their firm is headquartered on Albany Street in the South End and has blossomed into a regional company with 35 employees.
In April, RODE promoted longtime employees Ben Wan and Jessica Haley to principal positions, a nod to the duo's contributions with an eye toward leadership continuity and aspirations to grow the company footprint beyond New England.
But even as RODE ramps up for expansion, the company remains deeply rooted in Deabler and Robinson's home neighborhood. RODE has its fingerprints on some of the most critically acclaimed and important new buildings in this part of the city over the last decade, most notably DotBlock. Other significant projects include work at the Port Norfolk marina and associated buildings on Ericsson Street that is expected to start this year; the Dorchester Brewing Company building on Massachusetts Ave; the Meeting House, a residential building on Hancock Street that faces the larger DotBlock complex; a proposal for a 41-unit, mixed-use complex at 1420 Dorchester Ave.; and the Dorchester Fieldhouse, which will be a state-of-the-art indoor recreational facility run by the Boys and Girls Clubs of Dorchester, an organization that both Deabler and Robinson have supported personally for years, in partnership with the Martin Richard Foundation.
"We're very proud of the fact that so much of our work is with the first big influential projects to happen in Dorchester and they're continuing to, and they will into the future," said Deabler in an interview with the Reporter in April. "But we are also trying to use what we've learned here – the design process that we use, the way we work with our community through a development process – because that is sorely needed in other parts of the region."
If RODE buildings have a signature, it has less to do with the "look," as it does with the process that they've adopted through 17 years of being in the trenches in their own neighborhood.
As Robinson says: "The sensibilities that started RODE, which was this sort of notion that we just wanted to make our own neighborhood better. That's still number one today. It's something we've held onto – talk about all politics is local, right? So is architecture and design. It's all hyper-localized for the projects that we're working on."
As residents, there's an added pressure on Deabler and Robinson that comes with how they design and execute the buildings that carry a RODE stamp. But, they are also keenly watching how other projects that they aren't responsible for are carried out.
"I feel like we do feel ownership to protect Dorchester from a design standpoint," said Robinson. "Being involved in as many projects as we have been involved with, which started with really the biggest one, obviously, DotBlock. It was big, and it had a lot of aspects to it, but we feel we want to be protective of the neighborhood and make it the best it can be. I drive around and I can't believe how many projects and things we've touched in the neighborhood. I think about it a lot, and we hear about it a lot when we're at our local coffee shop and somebody will say, 'Hey, this looks pretty good; good job.' They were kicking our teeth in during the approvals, but they sort of in hindsight trusted us a little bit to deliver."
Matt Malloy, the co-owner of Dorchester Brewing Company and a Dorchester resident, hired RODE to design the brewery's expansion project, which eventually earned the building a prestigious award from the national American Institute of Architects.
"It's clear they truly, deeply care about Dorchester and the impact great design can have on pulling a community together and setting up our neighborhoods for success for years to come," said Malloy. "Through their passion and relentless efforts, they achieve what many simply can't."
As RODE does business in other cities and states, Deabler said they are carrying the message of what has worked well in their own hometown with them. Both men seem to enjoy debunking the sort of bigoted stereotypes that sometimes greet the D-word, Dorchester,
"It's also kind of fun," he said, "to get out there go to a place like Portsmouth and say, this is what we're doing in Dorchester. And they're like, Dorchester? We're kind of like an apostle for Dorchester, getting out there and speaking about how great the neighborhood is as a place, as part of the city. That has been one of those probably loftier goals: changing Dorchester's stigma over time."
That sort of synergy between their mission and that of other Dot institutions may be why RODE was drawn to one of its next huge projects: the $60 million Dorchester Fieldhouse, which was approved by city officials late last year. The facility will be "transformational and forward looking," according to Robinson.

RODE architects designed the future Dorchester Fieldhouse on Mt. Vernon Street.
"The building is very modern and contemporary," he said. "We could have done a simple box, right? But that was not very aspirational. This is one of those moments where the architecture and the process elevated. They want a world class facility; that needs to be represented in the architecture, too. And we are humbled to be part of that process. When shovels start going in the ground, we're gonna be standing there proud that we were part of that.
"For the club, for BPS, and for the foundation, I think you're combining the willpower of what we're trying to say about our children," added Deabler, who says that "all the elements are there for the field house to "exceed expectations."
"And that was one of the goals," he said. "It wasn't the primary goal from an architectural standpoint, but I think that once it lands and gets built, people will point at it and say, 'that was an amazing process.' And you're seeing the sort of evidence of that through the architecture. And that's gonna be a powerful moment for the neighborhood, for the people who will use the facility."

The RODE team offered several different renderings of the Neponset Wharf project over a long community process for the waterfront site in Dorchester's Port Norfolk section. Construction on the long-awaited project, which won approval from city officials in Jan. 2022, has not yet begun.
Also on the near horizon: Neponset Wharf, a development that will transform a pair of dilapidated buildings at the end of the Port Norfolk peninsula, adding open public space, housing units, and a restored marina to the site.
"It's an amazing example of a super forward-looking project in our own backyard to deal with climate change, sustainability… that the city is facing," said Deabler. "I mean, it is real. We're seeing it on all our projects throughout the city where we're dealing with resiliency issues.
"And I think that the project is like a microcosm of all the different aspects that we have to deal with in one project. It's a big project, but I think it was done so well from the creative sort of aspect of it and providing real public access to the waterfront... We're proud of the architecture and it'll be seen, we all know, from 93. It's going to be anchoring that peninsula. It will be built and we want it to be successful to represent Dorchester moving forward."