By Reporter Newsroom
February 2, 2023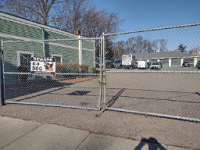 The perils of invoking 'character' in citing a neighborhood's growth
To the Editor:
"It's out of character with the neighborhood." How often have you heard those words in fights over new building projects? And what on earth do they mean?
That was my question when I learned I'd been appointed to the Impact Advisory Group for the proposed housing development at 150 Centre Street. The developer is accused of violating the character of the neighborhood around Shawmut Station.
"Neighborhood character" evokes tight-knit community, shared culture, and unique visual appeal. My street, Brent, isn't so warm and nostalgic – it's more diverse than tight-knit – but the houses are two-, three-, and six-families of a similar age and style.
What about the neighborhood around Shawmut Station and 150 Centre? I decided to take a closer look.
Look at these buildings. They're all within a block-and-a half of the proposed development. If "neighborhood character" means anything coherent, it's not the feel of the buildings around Shawmut Station. If we don't see jarring differences, it's because we are used to looking at them.
What, then, is this phrase being used to mean? Fewer people in the neighborhood? Housing for landlords more than tenants? Don't change anything? What does the phrase mean when it's used for development after development across Dorchester?
I want to know what people who say "neighborhood character" are really thinking. I'm asking because I want to do a conscientious job on the Impact Advisory Group. Until I find answers, I think we should focus on more tangible neighborhood impacts like traffic, parking, and yes, affordable housing.
– Mike Prokosch
Brent Street
Affordable rents spur my support for Trinity project
To the Editor:
The Rental Housing crisis in Dorchester is a supply problem that needs supply solutions. Our elected officials must prioritize improving housing access and affordability for low-income households through approval of affordable housing projects and long-term investments in housing assistance programs.
Housing insecurity is a problem for many of my friends and neighbors. My friends are being squeezed out of their homes. Those with deeper pockets – higher incomes and more wealth – can afford the $2,700 rent for a one-bedroom, but that leaves many of us to fight over an insufficient pool of rental housing.
The St. Mark's neighborhood has a severe shortage of affordable homes for renters. For decades, new affordable housing has been opposed by elected officials due to the undue influence of civic associations that do not represent the whole neighborhood. Construction of new housing has not kept pace with the rise in demand. Vacancy rates, the lowest in decades, result in soaring rental prices. In my opinion, the housing affordability crisis is the result of deliberate choices to oppose new affordable housing and chronic underfunding.
We finally have a mayor who puts affordable housing on the top of the city's priority list. The Boston Planning & Development Agency (BPDA) is poised to take bold action to prevent displacement of Dorchester residents and provide housing for all by approving Trinity's mixed-income housing project at 150 Centre St.
More than 60 percent of the units in Trinity's project are projected as affordable for residents at tiers of up to 30 percent, 60 percent, and 80 percent of area median income. Rental units will start at approximately $700 per month. The Centre Street location, adjacent to the Shawmut Station, is ideal for affordable housing.  Furthermore, Trinity's plans include an all-electric building, the elimination of harmful CO2 emission that contribute to climate change and negatively impact many people's health.
Before Trinity's project can secure approval, the BPDA would like residents to provide public input by Feb. 4. We need to express support for this meaningful housing project by asking the BPDA to approve Trinity's affordable, sustainable housing project at the Shawmut Station. Let your voice be heard about these important issues by submitting a comment to the Boston Planning & Development Agency. Please visit the BPDA's website. Our action is needed today!
– Mildred McKenzie
Mather Street

Shawmut project will increase home values
To the Editor:
Looking more into the Trinity Project on 150 Centre St., I can appreciate the disruption to abutters during the building process. In the long run, however, I believe the overall results of providing much needed affordable housing will be beneficial in alleviating the housing deficit. The parking provided, the use of sustainable building materials, and the attention to energy efficiency are huge pluses. The exterior aesthetics will be a boost for this lackluster block, adding an architectural lift. 
In my opinion, this project will be a welcome asset to our community and will improve property values for this neighborhood.
-Margaret Jamieson
Waldeck Street