By Reporter Staff
January 25, 2023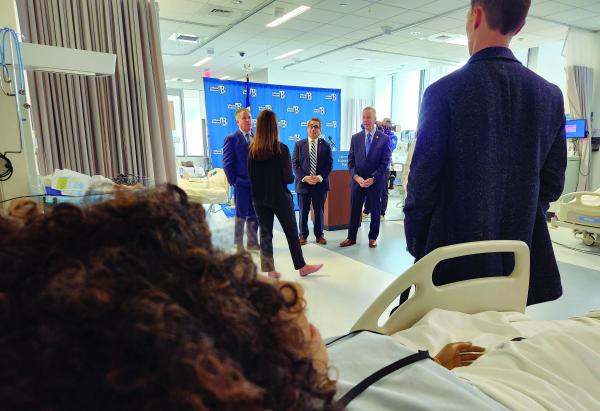 UMass Boston's Manning College of Nursing and Health Sciences is set to receive $3 million for a "home care digital and simulation lab," courtesy of the federal government.
Rep. Stephen Lynch, a South Boston Democrat who also represents Dorchester's eastern half, including UMass Boston on the Columbia Point peninsula, took a swing through the nursing skills lab, located inside space once dedicated to the university's fundraising department, to tout the federal funding. The funding is arriving through a $1.7 trillion package that came at the end of last year.
Surrounded by hospital beds with high-tech mannequins, Lynch joined Chancellor Marcelo Suarez-Orozco and City Councillors Erin Murphy and Frank Baker for a tour, led by Rosemary Samia, director of the Center for Clinical Education and Research. The mannequins cost $90,000 apiece and have been named Larry Bird, Bobby Orr and Tom Brady.
The Manning College of Nursing and Health Sciences, named for donors and UMass alumni Rob and Donna Manning, is the ninth-largest nursing school in the United States.
Lynch said the funding will create a home care digital and simulation lab that helps students experience "cutting-edge health care technologies and prepares them to enter the modern workforce."
Lynch called UMass Boston the "flagship" campus — UMass Amherst formally claims the title within the five-campus system. "There's a great vibe happening here and you see it on the faces of the students here today," he added, nodding to the assembled nursing students a few feet away.
The money will allow the campus to provide nurses who are "ready on Day One," he said.
The pandemic has created "tremendous" pressure on frontline healthcare workers and led to an exodus, according to Lynch. "We've got wonderful, award-winning hospitals and health centers that require nursing staff,' Lynch said.
At the end of the tour, Lynch told Samia, "We will keep the money coming."
They were joined by the chair of the 22-member UMass board of trustees, Fall River businessman Steve Karam. Gov. Charlie Baker appointed him chairman in October, before he left the Corner Office. Karam took over for Rob Manning, who had been serving his second stint as chairman before he stepped down in September.