By Seth Daniel, News Editor
May 11, 2023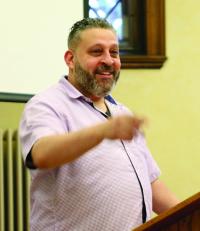 A Mexican taqueria could be coming to Codman Square. Amayrys Abreu, a food truck owner who holds a lease on 559 Washington St, the former home of Caribe Restaurant, introduced the Codman Square Neighborhood Council (CSNC) to his dishes and his plans at a hybrid in-person meeting in the Great Hall on Wednesday night (May 3) as a healthy Zoom contingent also participated.
Abreu was first on the agenda, and he showcased his plans for Tia Cualis, a small taqueria that he hopes to open within the next six months.
"I had an idea to open up a taqueria and I started looking for a spot, and at the time my son attended the Joseph Lee School," he said. "I kept passing by and I felt this would be a good area for the taqueria with good Mexican food and healthy food options. About a year ago I entered into negotiations with the landlord. I've negotiated a five-year lease with an extension for another five years. I plan to be around a long time."
The space has been vacant for some time, but Abreu, who is from Egleston Square in Jamaica Plain and previously operated a pizza restaurant, said he hopes to gain all his approvals from the city and the neighborhood within the next six months.
The plan envisions three or four tables, a robust take out/delivery operation, and food made from recipes that belong to the mother of his children, who hails from Mexico's Sonora region. "All of my recipes are her family recipes," he said, citing a list containing shrimp ceviche, fish tacos, vegan tamales, tortas, quesadillas, tacos, and burritos.
Cynthia Loesch Johnson, CSNC president, said the restaurant is one that she and local teens are very excited about. "We have been trying to get away from the large fast-food chains in our merchant districts," she said. "People are really excited about this business and about your story and what you will bring to our community."

Codman Square Notebook
A word of warning from the State House – State Rep. Russell Holmes warned the community during his speaking segment at the meeting that money is running short and serious decisions must be made now that the federal pandemic money faucet has been turned off.
Fresh off a state budget vote in the House, Holmes said there are many programs that are having to be scaled back – including MassHealth and the expanded RAFT rental assistance program. The Senate is due to unveil its version of the budget this week after which the two sides will hash out a final version to send to the governor's desk in the coming months.
"In every single respect, reality is about to come where we will have to make tough decisions," Holmes said.
The RAFT program existed before the pandemic at around $20 million per year but ballooned to $800 million during Covid-19. The new budget, now without federal help, can only fund RAFT at $183 million. Likewise, MassHealth didn't check eligibility during the pandemic, but will start going door-to-door to check qualifications now. That approach is expected to cut 300,000 people from the program.
In an interesting twist, Holmes said that it's very important to fight to keep wealthy residents in the state, many of whom, he said, are leaving for other states due to things like the new millionaires tax that voters approved last fall.
"So many say to tax the millionaires, but who is most likely to leave if that happens? The millionaires," he said. "The things we need to pay for, the people paying for them are the folks in the high-income bracket. We are losing 1,100 of them a week in this state. And we are losing them to states without these taxes."
Odds and ends – Officers from the B-3 District reported that on the afternoon of April 13, groundskeepers mowing the lawn behind TechBoston Academy hit something metal. Officers on scene took a look and found pieces of a firearm. Police are investigating the incident.
•The Codman Square Farmer's Market will return this year, beginning on Sat., July 15, and running on Saturdays from 11 a.m. to 2 p.m. through Sat., Oct. 14.
•Patrice Nelson appeared before the CSNC to detail her new children's social club, Hakuna Matata Village at 651 Washington St. The club is a drop-in format for younger children and up to about 14 or 15. The club is not structured, allow freedom for the kids. The program requires payment, and there are summer programs in the works.
•The Codman Square Neighborhood Trauma Team has opened a healing space on Thursdays at the Full Life Gospel Center, 183 Norfolk St., for anyone in the community who has experienced, or is grappling with, community violence. The space is open from 10 a.m. to 7:30 p.m., but there is a special healing time from 5:30 p.m. to 7 p.m. Spanish, English, and Haitian Kreyol materials are available.
•The Boston Caribbean Jerk Festival will take place on June 3 from 1-5 p.m. in Codman Square Park.