By Seth Daniel, News Editor
May 11, 2023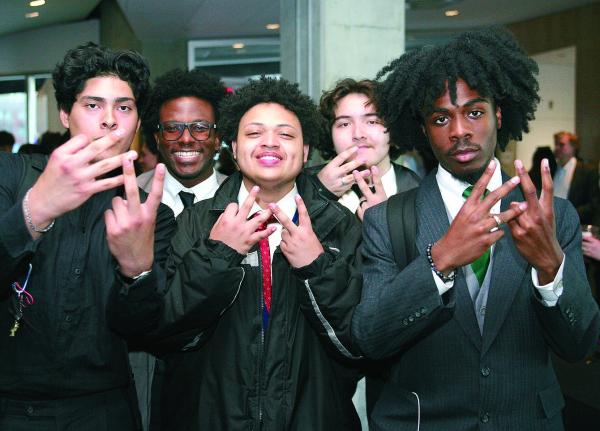 The big screen at New England Aquarium's IMAX Theatre was a welcome home last Friday evening for the unveiling of the second installment of a documentary film project produced by Mattapan 15-year-old Moses Sibley and a host of other teens and staff from the Mattapan Teen Center (MTC).
The one-hour film, called "Portraits," offers a wider view of the city than Sibley's first entry into filmmaking – the award-winning 'Mattapan The Documentary.' While the earlier production was shorter and focused only on Mattapan, "Portraits" is twice the length and showcases more elaborate cinematography and storytelling from all over Boston.
"It felt amazing considering how many people showed up and where we were last year compared to this year," said Sibley on Friday. "Last year we premiered our documentary at the Teen Center and now we're at the IMAX Theatre – that's absolutely incredible. It just shows you that the world is filled with endless opportunities and without a good team to help me create that film, this would have never been possible."

Moses Sibley, 15, at the premiere opening last Friday in the New England Aquarium's IMAX Theatre of his latest documentary film, "Portraits."
With Sibley controlling things behind the camera, Atisha 'Tea' Leach, Joseph Soto, Isaiah Apperwhite, and others from MTC appear prominently on camera and the Ethereal Visions (EV) music community, who have roots at MTC, are featured in the film.
"I'm very happy we have someone like Moses to tell our story and having access to the community and having his ear and eye to what's going on," said EV leader Ajary Alexandre at the premiere. "As young as he is now, he has the opportunity to be a change-maker. We need that in our community – someone young and fresh."
EV and The Record Company, a new recording studio on Dorchester's Morrissey Boulevard, appear in one of the first segments in the movie and talk about the undervalued music scene in Boston – particularly for young people and teens.
In her interview in the movie, Mayor Wu encouraged young people to lead with solutions to long-standing problems. "We can't sit back and wait for someone else to come in and fix things," she said.
Added Lavell Fulks of the Boston Public Health Commission of his movie segment: "I see everyone now who is 15 or 16 in this community setting themselves up to be the next leaders of Boston."
Others featured include state Rep. Brandy Fluker Oakley, City Councillor Ruthzee Louijeune, Boston Medical Center officials, Nubian Markets staff, Robyn Glaser of the New England Patriots organization, directors from the New England Aquarium, MTC peer leader Cisco Fernandes, a unique take on Ping Pong, and many other guests.
"Mattapan has its own culture but now that we're branching out to other people and other places, it's just truly diverse and amazing," said Sibley, who noted that he is about to launch his own video production business called 'Made by Mojo' at which he will produce commercial work and side documentary projects.
He is a high school student at Lincoln-Sudbury High School as part of the METCO program.

MiShy Sibley, mother of Moses Sibley, MTC Director Rick Aggeler, Petrina Martin of BMC, Thea James of BMC, and Peter Nash of the Boys and Girls Club of Boston

Moses Sibley (center) with several of his elementary school teachers from Lincoln. He now attends Lincoln-Sudbury High School. Seth Daniel photos

Kenneth and Derrick Bellinger

Councillor Ruthzee Louijeune with 'Portraits' hostess Atisha 'Tea' Leach walking the red carpet.

MTC Peer Leaders and friends Cisco Fernandes, Indigo Pierre Louis, Ryann Scott, Beth Pontes, and Leslie Aponte.

Kamau Fulks and his father, Lavell Fulks, who was featured in the film.

Moses Sibley, Damen Kelton, Lincoln-Sudbury Metco program director, and Joseph Soto.