By Gintautas Dumcius, Managing Editor
March 8, 2023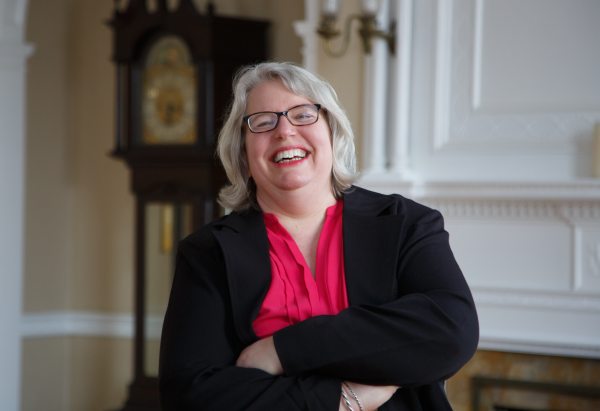 Jennifer Johnson, who has served as president of the Meetinghouse Hill Civic Association and on the board of Bowdoin Geneva Main Streets, plans to run for the City Council's Dorchester-based District 3 seat.
Incumbent Frank Baker has not formally said whether he's running for another two-year term as a member of the 13-person body. He has held the job since 2012, succeeding Maureen Feeney, who took the job of city clerk and retired last year.
Joel Richards, a Boston Public Schools teacher who ran for the District 4 seat in 2021, announced his run in District 3 in December. This year features just the City Council on the ballot.
"I'm ready to serve the district now after all of these years behind the scenes, helping my particular neighborhood," Johnson told the Reporter this week. "That's why I'm running."
Her main concern is the cost of housing in the city and state. "I'm seeing people who can't afford to stay in the city, people who have lived in Dorchester for generations, but their kids can't afford to move into the city," she said. "Housing is my biggest priority."
Asked about Mayor Wu's rent control proposal, which caps rent increases at a maximum of 10 percent, Johnson called it a "step in the right direction." She is just starting her campaign and is interested in hearing what community members have to say about the proposal. "I am somebody who listens to all points of view to come to a decision," she said.
Johnson, 54, owns a small business focused on employee benefits insurance and works out of the Fields Corner Business Lab. She was born and raised in Louisiana, where her mother was a substitute public teacher and worked in the local town clerk's office.
Johnson, who is white, recalled she was the first member of her family to attend desegregated schools. "That taught me some of the inequities in how different people in communities can be treated," she said. "That's really informed my whole life."
She came to Massachusetts as a college student and worked with environmental nonprofits. In 2014, she was unsuccessful in a five-person primary for the Fifth Suffolk House seat, which was won by Evandro Carvalho.
Eileen Boyle has signed on as chair of Johnson's campaign, according to a filing with the Office of Campaign and Political Finance.
This year's Council candidates face a reshaped District 3, which features redrawn boundaries as a result of the decennial process known as redistricting. District 3 now has several housing developments on the Dorchester-South Boston border that had been in District 2, while Cedar Grove and part of Adams Village are now in District 4.
As to finances, Baker's campaign account has nearly $35,000 in cash on hand, while Richards has $18,300.
The preliminary is set for Tuesday, Sept. 12, with the general election scheduled for Nov. 7.
Suffolk sheriff fined for hiring niece
Suffolk County Sheriff Steve Tompkins was under investigation by the State Ethics Commission while running for reelection last year, but the results weren't released until this week.
Voters reelected Tompkins – who was first appointed to the post by Gov. Deval Patrick in 2013 and has gone on to win three elections since then – with 60 percent (42,887) of the vote in the Democratic primary, where he beat challenger Sandy Zamor-Calixte, a former top aide in the sheriff's department. He didn't face a challenger in the general election.
The investigations and its findings revealed this week showed that Tompkins admitted to hiring his niece and paid a $12,300 penalty for violating the state's conflict of interest law.
The Ethics Commission also stated that he "repeatedly" asked subordinates to handle his personal errands.
According to commission documents, Tompkins hired his niece for a $45,000-a-year job within the sheriff department's external affairs division. The job wasn't posted publicly.
His niece moved to Massachusetts to help him take care of his two children after his wife died in 2016. "Until resigning at the end of 2018, Tompkins's niece routinely left work during normal business hours one or two times a week with his approval to transport one of his children," the commission said.
The commission also alleged that between 2014 to 2022, the sheriff asked department employees to help with errands during public work hours, a violation of the state conflict of interest law. In interviews with reporters, Tompkins disputed the timeline, saying the errands occurred after his wife died. But he waived his right to a commission hearing and signed a document with the commission agreeing to charges.
In a phone interview, Tompkins said that after Suzanne, his wife of 30 years, passed away in 2016, people, including department employees, offered to help. "That said, [the Ethics Commission] sees this as an inappropriate use of department resources," he said.
Colleagues apparently can't help colleagues in times of "duress," he said. "If that's the case, you got me."
As for hiring his niece, he contended she has a marketing and communications background, so she was qualified for the job and it didn't need to be publicly posted. He said she stayed just for 13 months before returning home to New Jersey, and she continues to work in the marketing and communications sector.
"I'm not going to bemoan it," he said. "It happened."
The commission noted that in a separate incident, Tompkins paid $2,500 for violating the conflict of interest law in 2015, when he demanded that store owners remove signs in their stores that had his opponent's name on them.