By Reporter Newsroom
March 16, 2023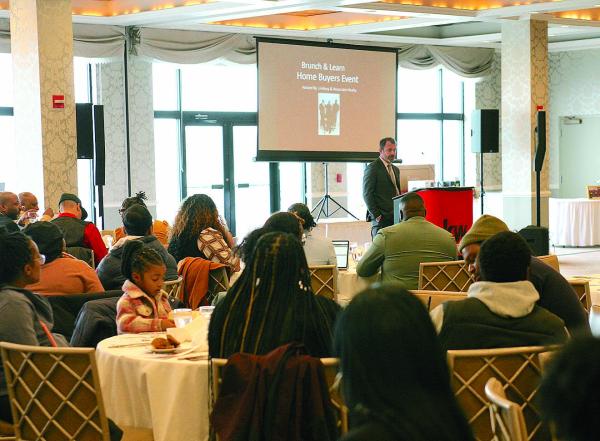 Eric Lindsey and the team from Lindsey & Associates Realty hosted a First Time Homebuyers event at Venezia Restaurant Function Hall in Dorchester last Saturday (March 11) that featured a brunch, local real estate service vendors, a DJ, and a lineup of speakers to walk participants through every stage of the current homebuying process.
"I really wanted to bring people together in a relaxed and fun environment to take the fear out of homeownership," said Lindsey.
Speakers at the event included Lindsey; Vanessa Kane of Movement Mortgage; LaQuisa Burke of Mass Housing Partnership; real estate attorneys Nina Nguyen and Jon Duane; the real estate law firm Huff, Harris Long, Hagan & Huff-Harris; landlord/tenant law specialist Jordana Greenman; Home Inspectors Advance Building Inspectors; and the insurance firm Vargas & Vargas.

Dorchester's LaQuisa Burke, of Mass Housing Partnership, went through the details of the unique One Mortgage program.

Eric Lindsey addressed the crowd at the beginning of Saturday's event.

Participants in the event included Alanna Oates and Fabyola Faublas.

Sonia Rivera and Edwin Rodriguez were excited to learn about homebuying and financing.