By Uendi Biba, Special to the Reporter
May 17, 2023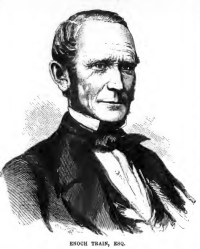 Do you think that Train Street in Dorchester is named after a locomotive? Well, think again, says the Dorchester Historical Society (DHS). The roadway, which runs across the top of Pope's Hill between Ashmont Street and Victory Road, takes its name from Enoch Train, a 19th century merchant who played a significant role in that era's profitable transatlantic trade and the continuing development of the two-century-old town of Dorchester that he called home for more than 30 years.
Train will be the subject of a special illustrated talk planned by the DHS this Sunday (May 21) at 2 p.m., at Pipefitters Local 537, located at 40 Enterprise St., Dorchester, where Vincent J. Miles, the author of a recently published history entitled "Transatlantic Train," will lead the discussion.
His book presents a unique look at the cultural exchanges between America and Europe during the 19th century and highlights the roles that Boston, Cambridge, and Dorchester played in the back and forth.
"It will offer insights into important issues of the times that affected Dorchester, Boston, and beyond, from the Great Famine in Ireland to the California Gold Rush to the rising tensions between North and South over slavery," said Vicki Rugo, the director of the DHS.
Train, who died in 1868 at age 67, lived in a sizable property on Centre Street in Dorchester from roughly 1830 until 1863. He played a key role in enabling the legendary Donald McKay to build his clipper ships in the early 1850s. During that time before steam-powered vessels, clipper ships proved essential to international trade.
While McKay is a renowned figure in maritime history, with the Donald McKay House in East Boston serving as a Boston landmark, Train, despite his prominence during his lifetime, has not received comparable recognition in contemporary times.
"Enoch Train is a fascinating character, and Vincent Miles is a great storyteller who has put together a rich and detailed account of Train's life and times," said DHS President Earl Taylor. "We at the Historical Society have done some research into Train's time in Dorchester that we will also be sharing. And we are delighted to be able to reveal where Train Street got its name! We are looking forward to a great event and encourage everyone to attend."
In addition to Saturday's talk, attendees will have the opportunity to purchase the book and have it signed by the author.