By Seth Daniel, News Editor
September 21, 2023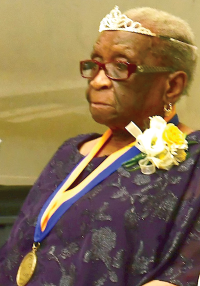 Decades ago, Christiana Telesford could be found on the pristine Grand Anse Beach in Grenada. These days, the 100-year-old native of Grenada is still making her rounds and keeping active in Dorchester.
The nonprofit Central Boston Elder Services (CBES) inducted Telesford, a longtime Dorchester resident who was born on Jan. 21, 1923, and ten other 100-year-old men and women from Boston into its Centenarian Society of Boston on Sept. 13 in a ceremony at the State House.
After serenading the attendees with a touching song, Telesford offered some sage advice during the ceremony: "Do your best and get the best education possible; be kind to all."
Her granddaughter, Natasha Telesford Williams, said Christiana came to Boston more than 40 years ago and followed her sons to Dorchester after having lived in Montreal.
"She worked at the Harriet Tubman House and then the United South End Settlements (USES) daycare program for 40 years," said Williams. "That was the only job she ever had in the United States, and she retired when she was 95. She loved the social aspect of the job and loved her co-workers, and really enjoyed the children. She took the bus until she was 93.
"When you ask her how she survived this long, she'll tell you it's because she kept moving all the time."
The family had originally lived in Barbados, where a relative had been enslaved and escaped to Grenada. That's how the relative's family put down gained roots in Grenada and why Telesford spent her childhood on that island's beaches.
"She loved to swim and dive, and she even remembers her favorite beach – Grand Anse. She remembers that very clearly," said Williams.
With no formal education, Telesford left Grenada when she was young and relocated to Trinidad, where she worked as a housekeeper and developed a passion for cleanliness.
Later, when she was working as a cook at USES in the early childhood and after-school programs, she was adamant about keeping things immaculate – and to this day she remains that way. "She prided herself in cleanliness," said Williams. "In whatever job she did, she believed you should do it to the very best of your ability. If you went into her kitchen at work, it was so clean it looked like it had never been used. She used to love it when inspectors came through and noted how clean the kitchen was."
Telesford has been married more than 60 years to Osmond Telesford, 96, with whom she has six children: Michael, Leroy (Dorchester), Calvin, Elton (Mattapan), Annette and Winston (Dorchester). She has been a long-time parishioner at St. Catherine's of Drexel Church on Blue Hill Avenue and credits her faith in God with providing her the longevity she enjoys.
In addition to Telesford, the diverse Boston centenarians hail from Cuba, China, Guatemala, Russia, Dominican Republic – as well as Uniontown, Pennsylvania. All of them live at home in their communities with family members and friends participating in their day-to-day lives.
Sylvia Exantus, executive director of CBES, applauds the hard work and commitment of CBES nurses and care managers for enabling older residents of Boston to age in place in the communities CBES serves.
"We are grateful for the essential funding received from the Massachusetts Executive Office of Elder Affairs which makes this care possible, along with our caregivers' commitment and expertise," she said. "We recognize the tremendous value of the life experiences of our older friends and neighbors and welcome the opportunity to honor them and share their cultural experiences."
CBES founded the Centenarian Society of Boston in 2011 to recognize the longevity and courageous spirit of those who age in place in the community. This year's event marked CBES's 10th Annual Centenarian Ceremony, with 122 Centenarians welcomed to the society since its inception.