By Kelsey Martirano, Hannah Edelheit, and Jewel Sanchez
March 9, 2023
Adam Madeja traded two bell peppers and an onion for a hot dog with another vendor.  Nearby, Michelle Carter demonstrated the wonders of shea butter while Tasha Kitty, a local crystal and wellness vendor, loaded up on other goodies. 
"I get my groceries here every week,'' Kitty said, displaying a bag full of fruits and vegetables. 
 For more than a decade, Dorchester's Winter Farmers Market has provided healthy options to the neighborhood, a health-food desert that has three fast-food restaurants. The market has been venturing into non-food items in recent years, providing attendees with a fresh lineup of offerings.
"Last year, we only had farmers, and we had bread and things like that, and this year I took… a different approach,'' said market manager Richard Scott, who emphasized the market's support for vendors of color. 
Customers at the indoor market this year will see more small businesses that create their own products than in previous years. They include designers of jewelry, crystals, and art, in addition to vendors who make their own juices and health and wellness products.
Madeja, who works for North of Boston Farm, runs the booth for his employer, which is the leading supplier of the produce at the market. Standing there recently, he said the market supports not only local businesses but also the local economy.  
Lorna Grim, a Jamaican-born, Boston-raised resident, calls the farmers market a necessity to the community, saying that it provides healthier and fresher options than nearby grocery store chains.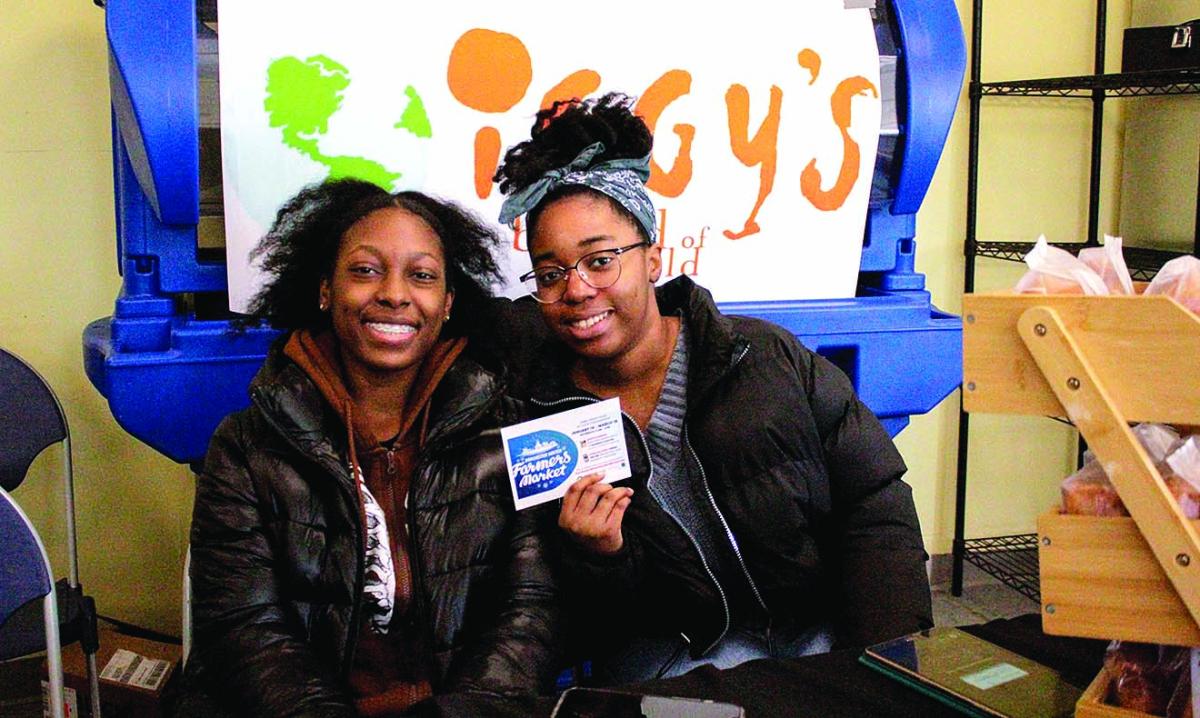 Lori Gustama (left) and Kristina Pruitt (right) from Breath of Life Dorchester, help run a stall for Cambridge bakery, Iggy's Bread, every week.
Due mostly to their lack of awareness about healthier options, young people often prefer a quick, easy meal such as a pizza, instead of cooking up a well-balanced meal, Grim said, adding that a lot of "young people don't have the avenue to say I'm going to make a meal."
The market, open through March 18, accepts Supplemental Nutrition Assistance Program benefits and houses a verified vendor from the state's Healthy Initiatives Program. The market's abundant supply of fruits and vegetables is a welcome presence. 
"We see all these fast-food restaurants, but we don't really see any other healthier food options," Scott said. "There are so many things that we're missing in our community." 
Zaquarah Caldwell, a member of the Breath of Life Dorchester (BOLD), works closely with the vendors. The BOLD team helps to package the food at the market, set up tables for the vendors, and get the space ready for customers. 
A Dorchester native, Caldwell said she has experienced living in a "food desert" firsthand while noting that the ample supply of fast food in and around Codman Square is a "problem." She is working to combat the rise of fast-food chains in the area by helping to educate the public about other options.
"We want to have more healthy foods in the area for people to access so we do the Dorchester Winter Farmers Market to have people come in and get healthy vegetables, fruits, and organic meat," she said. 
Scott, who has been running the event for two years, said the market offers bi-weekly $50 coupons to some 30 to 40 families to combat food insecurity. This year, City Kids, a nonprofit organization, began supplying these coupons after the Mayor's Office of Food Justice cut funding.
"We live here every day. You know the government officials don't always live here in the community," Scott said. "So, we see things from a different perspective."
Carter, who sells art and skincare, got involved with the event through the Codman Square Market, which runs in the summer and fall.  "I went there, and then Richard fell in love with me, and he brought me over here," Carter said. 
The Dorchester native said the experience has been positive because the market has created a community of vendors and made her more aware of her neighbors. 
"If the word gets out, you will find more people wanting to have vendor spots,'' Carter said. "So, we should make it available to more people in the community, not just Dorchester but Roxbury, Mattapan, Roslindale." 
This story was published in collaboration with Boston University's Department of Journalism in the College of Communication. The student journalists are members of a Reporting in Depth class taught by former Boston Globe reporter Meghan Irons.