By Seth Daniel, News Editor
January 19, 2023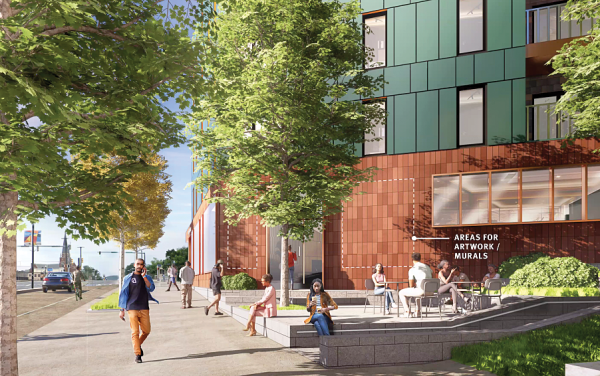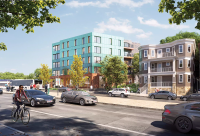 A California-based developer ran aground last week in proposing a 48-unit affordable housing apartment project off Blue Hill Avenue as community members stridently pushed back on the plan as they have on at least three others for the property over the last four years.
The site at 1471 Blue Hill Ave. sits on a steep incline at the convergence of the avenue with Woodhaven and Culbert streets, where construction workers would have deal to with rocky outcroppings.
During the Greater Mattapan Neighborhood Council (GMNC) meeting last Monday, the developer, Lincoln Avenue Capital, attempted to wow neighbors with creative architecture, sidewalk spots, and innovative solar panels embedded in the façade of the building, but they appeared to whiff on their approach and the location – a quiet area of Mattapan accustomed more to single-family homes than to modern apartment buildings with trendy two-bedroom apartments.
"What are they talking about putting a five-story building on the corner of Woodhaven Street?" asked Wes Williams, a GMNC board member. "I purchased my house on Woodhaven long ago and have had to fight to keep it open space here. How are you coming into my community now with a five-story building? It really questions the sincerity of the project and how it affects us and our neighborhood."
Added David Ventner of Culbert Street, "To have a 48-unit building at that density is changing the entire feel of this neighborhood. It is urban by definition here, but it is suburban in feel…You talk about bikes and all these developments, but you're not going to be carrying a washing machine or lawnmower on a bike…There isn't even a supermarket nearby. We have to drive here."
Lavell Fulks, a Hyde Park resident who previously lived in the Mattapan area, said one of the issues with these buildings is they end up being "warehouses" with no connection to the community. "They live there until they get their boyfriend or girlfriend or fiancé and then they get out of there," he said.
Fatima Ali Salaam, the chair of the Mattapan group, told the development team they needed to factor the fabric of the neighborhood with their planning. "We have families versus one-bedroom and two-bedroom units," she said. "We see people move in and they don't become part of the fabric of the community."
Scott Shaw, vice president of development for Lincoln, said the company would consider bigger units. "We could adjust some twos and ones and create more threes. That's what is in the neighborhood. I will certainly look at that," he said.
Before Shaw took control of the presentation, meeting attendees mostly listened as Nick Zozula, a project attorney with McDermott, Quilty and Miller, did most of the talking while butting heads with neighbors.
He had a testy exchange with Williams after he said the building would be too tall for Woodhaven Street. "We don't need any height variances or variances for the size of the building," he responded. "Take that how you want, but we don't need a height variance." This led to a verbal tussle that was firmly shut down by Chair Ali Salaam.
"Sir, change your tone real quick, bring it down," she said to Zozula. "Yes, ma'am," he replied.
Earlier, Zozula and the development team took up about 35 minutes to present their plans and designs for their project. The building's first floor would house a gym and community space, with a snazzy entrance at the corner of Blue Hill Avenue and Culbert Street spilling out into a large sidewalk seating-and-art area. Above that, there would be four full-floor plates of apartment units progressing up the hill, with a cutout likely have community roof gardens on the corner abutting Culbert Street to make the building feel less imposing to neighbors. The unit count includes 3 studios, 15 one-bedrooms, 24 two-bedrooms, and 6 three-bedrooms – all rental units.
The plan also contains a generous portion of new trees on the sidewalk using linear green space rather than the usual tree pits. Several of the mature trees on site would be preserved as a buffer for residents behind the building.
Another part of the plan described as unique would be façade work that would generate electricity: vertical photo-voltaic panels wrapped around the building and acting as solar panels. They would be new for Boston, the developers said.
"Folks living in the building would not need to pay any utility bills because we'll be providing all of that on site," said Zozula. The statement was quickly modified by the building's architect, Amy Korte, who said, "Well, we're still doing the analysis on that; That is the goal."
That inconsistency caught the attention of residents on the call, including Azan Reid who said it didn't sound like the team was well-prepared. "To not be on the same page with the electrical program, saying people won't have to pay electric bills is a big thing around here," said Reid.
Zozula apologized and tallied his statement up to a "miscommunication." For his part, Shaw said they hoped it would be the case, but added that it's too early to tell how much the solar energy will offset utility bills in the building.
Lincoln Avenue Capital, which has offices in California and New York City, has an official Boston Planning and Development Agency (BPDA) online meeting set for Feb. 1.
The project was originally filed in September to meet a state affordable housing grant funding round, Zozula said, and they were only now ready to start introducing the project.

MATTAPAN NOTEBOOK
•The neighborhood yard sale from last fall hit all the right notes, and so the GMNC is bringing back a spring yard sale for April 22 in the parking lot of the Mildred Avenue School. Committee Chair Matt Skelly said they would be organizing and promoting the event over the next few months.
•A developer looking to put 18 units of senior housing and a daycare facility in an existing brick building at 120 Babson St. did not show up for the most recent GMNC Zoning Meeting on Dec. 15. Chair Fatima Ali Salaam said the developer, Forever Young LLC, which is controlled by Ruben Coulanges of Brockton, submitted a request via letter in November to reduce the number of units to 15.
Said Ali Salaam, "He thought if he lowered the units to 15, it wouldn't be an Article 80 review and not subject to a small project review process. He believed so incorrectly. We are requesting that he, his architect, Neighborhood Services, and the BPDA sit down and review what is expected for this project because they are mistaken that they are not subject to Article 80."
•A developer looking to build a two-family home at 10 Woodhaven St., with four spaces in the rear attended the Dec. 15 Zoning meeting but neither the developer, Derick Joyner, nor his architect, was able to accurately explain what they were doing, said Ali Salaam. The Zoning Committee voted to send the project team back to the Woodhaven Culbert Association.
•An online meeting was scheduled for Jan. 19 by the Parks and Recreation Department regarding Phase 4 of Franklin Field Harambee Park Restoration on Jan. 19. The bulk of the meeting was to be spent on discussing a proposed dog park and a proposed pump (bicycle racing) track in the plan.
•The city's Blue Hill Avenue Transportation Action Plan will hold a meeting on Jan. 24 to continue discussion of major changes to Mattapan Square and the Blue Hill Avenue corridor – including the center-lane bus proposal.
•Councillor Ruthzee Louijeune has been working with neighbors throughout Mattapan to clamp down on problem dumpsters at properties controlled by absentee landlords. She said she is asking the community to reach out to her with such problems and she will continue the effort through 2023. "We deserve just as much as anyone else and city services responsive to us," she said.