By Seth Daniel, News Editor
September 21, 2023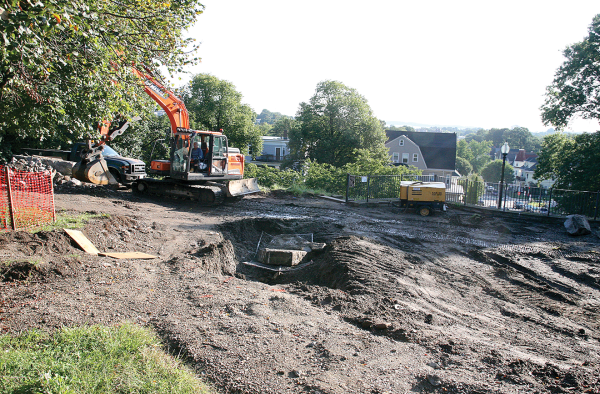 After more than a year of delays, construction work has started on a project that will entirely remake the upper and lower portions of the scenic Mother's Rest Four Corners Park on Washington Street.
Planning for the reconstruction started in 2020, with the last public meeting held in April 2022, and completion expected by early last summer. However, delays arose when bids for a $1.41 million renovation came in more than $400,000 over that number.
Mayor Wu and City Councillor Brian Worrell worked this year to budget an additional $400,000 to start the project and finish it with no cuts. Construction crews from ANJ Construction moved in late last month and have begun excavation work on the site.
"We anticipate the renovations, which will include a new cooling station and splash area, to be completed in spring 2024," said a Boston Parks and Recreation Department spokesperson.
Councillor Worrell said he was grateful to the mayor for pushing the project over the finish line with additional funding.
"This is another positive step after decades of underinvestment in much of District 4," he said. "It's been a long planning process with the community, and in the end our residents will have an upgraded playground and a much-needed splash pad that will help combat the heat island effect that so many of our residents battle with in the summer months."
The rehab includes two levels connected by stairs, as the park sits on a large slope that features a scenic overlook of Dorchester Bay. On the lower level, there will be playgrounds for ages 2-5 and for ages 5-plus. Additionally, there will be a sloped climbing and water play areas.
On the top level, the gateway arch will remain, but the plaza will be lower with painted stadium seating put in place to create an amphitheatre overlooking the Harbor. A teen space will be located adjacent to that, and tables will line the area next to Washington Street. The upper level will also double as an exercise area, as the community made a strong call for exercise, yoga, and meditation space on the site.