By Gintautas Dumcius, Managing Editor
January 27, 2023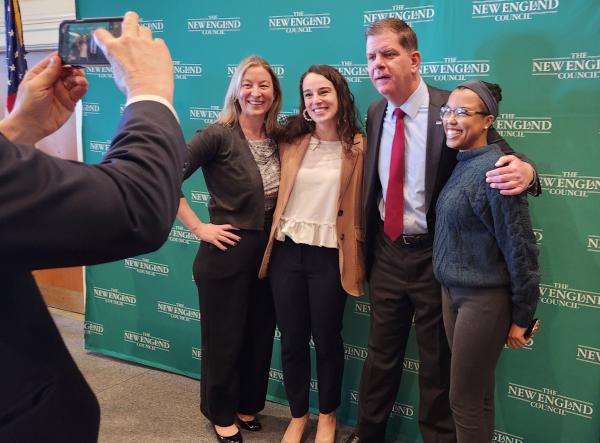 Days after Mayor Michelle Wu used part of her "State of the City" speech to critique the past decade of development in the city, her predecessor appeared to offer a defense of his administration's time inside City Hall.
Appearing before the business-backed New England Council on Friday, US Labor Secretary Marty Walsh devoted a significant portion of his remarks to laying out some of his administration's successes. Walsh assumed the mayorship in 2014 and in his second term left for the Biden administration in 2021.
"We approved $48 billion in new development," he told the crowd gathered at the Seaport Hotel for the New England Council breakfast. "We approved over 50,000 units of new housing. Our city government earned a perfect triple A bond rating for seven consecutive years in a row. That's the first time that's ever happened in the city of Boston. We grew our tax base by making historic investments in our neighborhoods. We fully renovated libraries in Roxbury, Dorchester, Roslindale and other places."
His administration was also able to place 2,500 homeless people into permanent housing, he added.
"These are generational investments," Walsh said. "But none of what I just talked about could have happened without partnerships. The neighborhoods, the private sector, the state, labor, the people in this room. So I took what I learned as mayor, and all the lessons we learned, to Washington."
The crowd of 450 people included several people who had worked for him, including Eugene O'Flaherty, Kathryn Burton and Joyce Linehan. Others from the business community also attended the breakfast talk, which was sponsored by Fidelity Investments. The New England Council is headed by Jim Brett, a former mayoral candidate and Walsh's predecessor in representing Dorchester at the State House.
Walsh breakfast talk occurred days after Wu took the stage at the MGM Music Hall by Fenway Park and before a crowd of thousands laid out her plans to revamp the Boston Planning and Development Authority (BPDA), and fold parts of it into a new city department.
Under Walsh, the Boston Redevelopment Authority rebranded as the BPDA in 2016. Wu said Wednesday the agency, which she had pledged to "abolish" while she was on the mayoral campaign trail, had its focus on "buillding buildings rather than community," and that "has held back the talent of its staff and deepened disparities."
She added: "Over the last decade, Boston saw the largest building boom in generations: cranes in the sky and jobs on the ground. But that growth wasn't harnessed for the benefit of all our communities…Not planning for sustainability meant that as new development reshaped our skyline, public infrastructure continued to age: subway tracks and school buildings, pools and community centers."
Wu's speech, which did not name Walsh or his administration, pointed to the new energy-efficient Boston Arts Academy, across the street from the MGM Music Hall, and Chinatown's Josiah Quincy Upper School, the new state-of-the-art high school. The latter project started in 2012, Wu noted, three mayors and six superintendents ago.
In his New England Council speech, which did not mention Wu or her administration, Walsh also noted the Boston Arts Academy and the Quincy School, as well as the renovation of City Hall Plaza. "It's great when I come home, I see that building going up," he said in reference to the Quincy School.
When asked about Wu's criticism after his New England Council talk, Walsh said, "I didn't see the speech. I was in D.C. so I can't really comment on that because I didn't see her speech yet."
Wu, along with Andrea Campbell, a fellow city councillor at the time, announced their mayoral campaigns in Sept. 2020, as Walsh was readying to run for a third term and before Biden tapped him as his labor chief.
In his remarks to the crowd, Walsh had praise for an array of public officials who were in the room as well as those who were not. City Councillor At-Large Erin Murphy, a fellow Dorchester resident, "never stops working," Walsh said. "She literally goes to everything in the city of Boston."
Walsh also had praise for former Gov. Charlie Baker's tenure, and he commended Gov. Maura Healey for her cabinet picks, including labor chief Lauren Jones, who worked for Walsh's City Hall, within the economic development office.
Aside from talking up his mayoral administration, touting some of the Biden administration's accomplishments and talking about his recent trip to Davos for the World Economic Forum, Walsh took the opportunity to reminisce about his 16 years as a state lawmaker and his 2013 run for mayor. Before his run, he wore two hats: Dorchester state representative and a top labor leader.
"When I ran for mayor of Boston, people — some people in this room — actually thought I was too close to the unions and thought I'd be terrible for business and awful for the city of Boston. So I want to thank you for that," he said to laughter from the audience.
Walsh's campaign decided to "embrace" the labor label and ended up proving the media and critics wrong, the former mayor contended. "I wear my labor credentials as a badge of honor," he said.