By Gintautas Dumcius, Managing Editor
March 15, 2023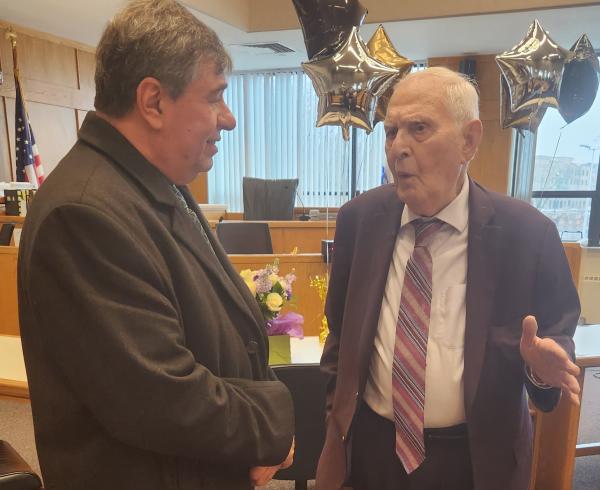 Anthony Ellison was a prosecutor working in Dorchester District Court in the late 1990s when he first met the defense attorney Arnold "Arnie" Abelow. "I was having a good day as a prosecutor," he recalled, coasting through arraignments, while Abelow was on deck as "lawyer for the day." "Arnie goes over to me and says, 'You're wasting your talents,' and walks away. A year later, I'm on the defense bar," Ellison said with a laugh.
The exchange was a classic interaction with Abelow, a man known for politely and persistently clashing with prosecutors. Now 88, he is attempting to settle into retirement, capping a half-century as an attorney beloved in nearly every corner of the courtroom.
Anthony Benedetti, chief counsel at the Committee for Public Counsel Services, which offers legal help to people who can't afford it, said Abelow has "changed the trajectory of thousands of lives."
That was evident as dozens of attorneys, court and probation officers, and judges inside Roxbury District Court's First Session gathered one afternoon earlier this month to toast the man and his career. Another get-together, this one a surprise, was held last week at Dorchester's Florian Hall, where a standing-room only crowd clapped and cheered as a shocked and typically humble Abelow entered the room.
Arnie Abelow's early years were spent on Jones Avenue in Dorchester before his family moved to Mattapan, first on Evelyn Street between Blue Hill Avenue and Norfolk Street, then to Fessenden Street before they crossed Blue Hill Avenue over to Wellington Hill. His family had a furniture business at 227 Bowdoin St. in Dorchester, an address now home to a cell phone store.
Another address close to Abelow was 10 Hazelton St. That's where the Boston Public Library's Mattapan branch was back then, and Abelow was like a resident there, devouring books on sports and paging through baseball magazines before moving on to the rest of the stacks.
His route from the library to the courthouse was circuitous: He graduated from Boston Latin School in 1952, and like many of his classmates, went on to Harvard after which he attended graduate school at the University of Pennsylvania hoping to avoid military service. It was an unsuccessful effort; he soon found himself riding in the back of a truck on its way to Fort Drum in upstate New York. A year after his discharge in 1958, he met his wife Leila at a community center for Jewish students at Boston University.
Speaking with the Reporter, Abelow, who now lives in Brookline, relayed his biography in a just-the-facts manner: The family furniture business wasn't for him. "I came home in 1965 one night and I told my wife that I wanted to go to law school," he said.
With a law degree from Suffolk University in hand, he began practicing in 1969, starting out in a little office at One State Street that rented for $75 a month. In 1972, he moved to Everett along with Jerry Sweeney, who handled civil cases while Abelow focused on criminal defense work.
On a recent Thursday, during a lunch break inside Roxbury District Court, about 50 people surrounded Abelow, who wore a purple jacket and a striped tie, his proud wife by his side. Some struggled to hold back tears as they talked about what it was like to work with him.
Rochelle Burgos, the assistant clerk magistrate, recalled the moments they shared when the court was in recess. She first met him 25 years ago, and learned they were both graduates of Boston Latin, she in 1988. She came to appreciate his love of music, and during the recent holiday season, when they were both in the Third Session, he asked her to play "What Are You Doing New Year's Eve?" as sung by the Orioles in 1949. On the literary side of things, Arnie reads the "Iliad" and the "Odyssey" for fun.
He has long received VIP treatment whenever he walked into the clerk's office, never having to wait in line. (He didn't have to wait at the probation department either, according to Edith Alexander, an officer there.)
Kevin Thomas, the chief court officer, quipped that Abelow was the only person he allowed to bring his cell phone into the courtroom during cases, because it was a flip phone, and he "didn't know how to turn it off."
Thomas added that he learned about the history of the city's neighborhoods as Abelow recalled who lived at what home and who attended which schools. "I've never met a guy who knew something about everyone," he said. "I don't care if you were Black, White, Hispanic, Italian, Jewish. You name it, if you brought the subject up, he knew something about it. I don't think he realizes that just by the conversations we would have in the morning, how much of a mentor he was for me."
John Osler called Abelow a "model" for attorneys like himself, a dedicated man who can be found with a client at a jail or prison on Sunday mornings. "He's a model because of his concern for his clients," he said. "Arnie sees his clients as fellow human beings and fellow sufferers. If you bump into him in a courthouse, he'll talk about the client, the mess the client is in, and how to bring resources to bear to help."
Added Steve Sack, a fellow attorney: "If a client needed a ride to court, he'd go pick them up."
Osler turned to Abelow, who was seated in front of him: "I don't know what it's going to be like not seeing you in court," he said. "But I hope retirement is good to you. If anybody deserves a break, it's you, Arnie."
When it was Abelow's turn to speak, he slowly stood up and briefly addressed the crowd. He thanked the probation department, the court officers, the judges he grew up with, and the prosecutors who "most of the time" helped him resolve a case in the best interest of a client.
Acknowledging some current medical problems, Abelow said, "I've had a bad break but I'm still here."
As the court's lunch break came to an end, well-wishers kept coming up to talk to Abelow. Among them was David Breen, a prosecutor who became a judge in 2015. He was an elementary school classmate of Abelow's son Jerrold, and Breen's brother grew up with Abelow's daughter Aviva, so Breen has known Mr. Abelow, as he has always called him, since second grade.
"Whether he's on the winning side or not, he's respectful to the court, to his client, and to the prosecutors," Breen said. "It's a great lesson for us all: Even in a really contentious environment, you can still be kind to one another and get the results you're looking for."
Ellison, the defense attorney, noted that when Abelow was young, the streets he grew up on were known as predominantly Jewish enclaves, a mix of synagogues and three-deckers. The Mattapan branch library, which opened on Hazelton Street in 1931, has since moved, and it's now a four-minute walk away, right on Blue Hill Avenue, hosting books in Haitian-Creole, Spanish, and French. Sixty-eight percent of the neighborhood's residents identify as Black or African American.
"One thing didn't change," Ellison said. "That was Arnie Abelow, representing people in Roxbury, Dorchester, and throughout Suffolk County."