By Reporter Staff
October 31, 2023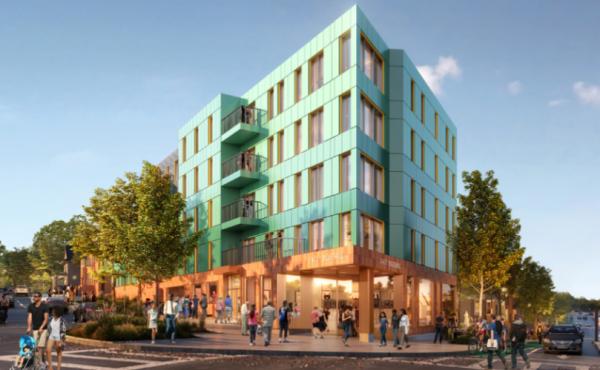 The Zoning Board of Appeal on Tuesday approved plans for a 41-unit, five-story apartment building at 1471 Blue Hill Ave. at Culbert Street in Mattapan.
Eight of the units would be rented to people making no more than 30% of the Boston-area median income. The rest would be rented to people making no more than 60% of that level, according to Scott Shaw, overseeing the project for developer Lincoln Avenue Capital of Santa Monica, CA.
The building would have ten parking spaces for residents with two additional spaces for Zipcar-managed cars for building residents to rent.
Culbert Street residents and the Greater Mattapan Neighborhood Council opposed the project, saying it was too dense for the street of single-family homes. Residents and the council said it would only further aggravate existing problems on the street with churchgoers and people attending events at Almont Park who already take up the narrow dead-end street. Culbert Street residents said they were also worried about a possible increase in crime; they said people who commit crimes in the park already flee on foot down their street to Blue Hill Avenue.
"We're not saying we don't want something [on the site], but it needs not be this massive," Culbert Street resident Tiffany Vassell said.
Shaw's zoning attorney, Nicholas Zozula, however, said that the building would have its own on-site loading zone, which should alleviate any issues from the building on Culbert, and that, if anything, adding residents and so more "eyes on the street" would make the area safer.
Shaw said his company's experience has been that 25% to 30% of its affordable-apartment tenants have cars. He added that the company would look to lease spaces in nearby parking lots should this building prove an exception. Zozula added that the city's new affordable-housing regulations say that all-affordable buildings do not need to have any parking.
The board approved the project unanimously - a month after it won BPDA approval. Board member Katie Whewhell said she appreciates the neighbors' concerns, but said the project just had too many public benefits, in particular the addition of all those new affordable units. She added that a residential building would mean less traffic to and from the site than a commercial building that could be built there.