By Gintautas Dumcius, Managing Editor
January 5, 2022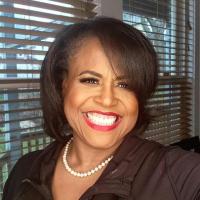 Sandy Zamor Calixte, a top aide in the Suffolk County sheriff's office since 2006, launched her campaign for sheriff Wednesday morning outside the Mildred Avenue Community Center in Mattapan.
The campaign sets up a clash with Suffolk Sheriff Steven Tompkins, who told GBH News he is running for reelection. He has served in the law enforcement job since 2013.
The sheriff, who is elected every six years, manages the Suffolk County house of correction and the jail, has inmates and pretrial detainees in custody and oversees a staff of 1,000 people. Suffolk County includes Boston, Chelsea, Revere and Winthrop.
"For the last two decades, I have done the work behind the scenes to make our Department more equitable, transparent, and community-centered," Zamor Calixte said in a statement. "But after working within the system and pushing behind the scenes for change, it is clear to me that the only way to implement the change we need in this Department to better serve our community is new leadership. I know that I am that leader."
Zamor Calixte first joined the department as coordinator of community outreach and youth program, before ascending to chief of external affairs and communications in 2014. According to her biography on the Suffolk sheriff's website, she helped launch a program "which created pathways for students residing in Suffolk County to explore careers in law enforcement, and helped build a coalition effort with community organizations to curb youth gang violence."
She previously worked as an investigator for the Department of Industrial Accidents.
Zamor Calixte has hired Katie Prisco-Buxbaum, who managed City Councillor Andrea Campbell's mayoral run, to work on her campaign. Prisco-Buxbaum launched a consulting firm, Hyphenated Strategies, after the mayoral race in November.
Nancy Rousseau of Brockton is listed as her campaign chair and treasurer, according to a filing with state campaign finance regulators.
Tompkins was also a longtime staffer in the sheriff's department before he got the top job. He had worked there for 11 years before Gov. Deval Patrick appointed him sheriff, replacing Andrea Cabral, who joined Patrick's administration as public safety secretary. Tompkins went on to win the November 2014 election for the job. He was reelected in 2016.
"Sandy has been a valued member of the Suffolk County Sheriff's Department since 2006," Tompkins told GBH. "I hate to lose her, but I welcome her to the battlefield. Let's dance."
This post was updated at 1:15 p.m.