By Seth Daniel, Reporter Correspondent, and Gintautas Dumcius, Managing Editor
January 27, 2022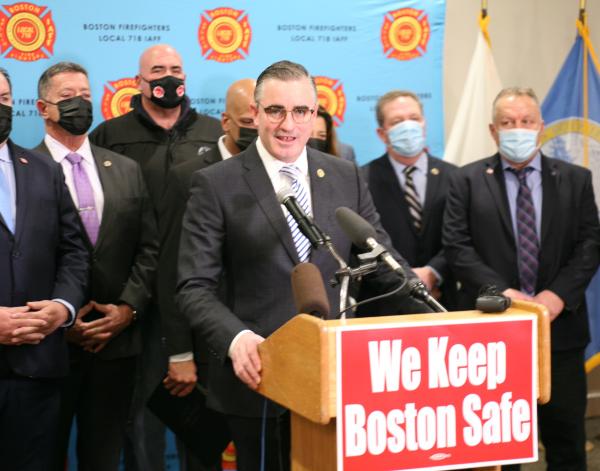 A Massachusetts Appeals Court judge has halted a vaccine mandate for city workers.
Several city unions, including Dorchester-based Firefighters Local 718, have waged a legal battle over the mandate. The Superior Court earlier this month denied their motion for a preliminary injunction.
On Thursday, an Appeals Court judge issued a stay as a review of the denied preliminary injunction gets underway. The unions covered under the stay are Local 718, the Boston Police Detectives Benevolent Society and the Boston Police Superior Officers Federation.
Edward Kelly, general president of the International Association of Firefighters (IAFF) and a Dorchester resident, said the judge told the city to take a pause and not to fire any workers on Monday – specifically calling on the city to justify the mandate in light of existing collectively-bargained contracts.
"Today, the Appeals Court justice said, 'Take a pause; take a pause.' You can't just fire these people," said Kelly, flanked by leaders of the three unions.
"They have rights, and they have a right to be heard," he said. "We've been saying that all along. Our members have rights, and they have collective bargaining rights and collective bargaining contracts that they've worked under every single day and lived up to their end of the contract."
Earlier this week, Mayor Michelle Wu said that 94 percent of the city's workforce, or 18,270 employees, were in compliance with the city's vaccine mandate. Wu had extended by another week the chance to comply, the new date was Jan. 30, meaning before then "no employees will be disciplined or placed on unpaid leave."
In a statement after the judge issued the stay, Wu said the vaccination rate among the city's workforce now stands at 95 percent. "The policy has already helped us reach 95 percent vaccination across our City workforce, an overwhelming support for public health and the safety of our colleagues and the communities we serve," she said. "Vaccination is our most powerful tool in this ongoing public health emergency, and we look forward to filing our response with the court."
Among the major departments, Boston Police and Boston Public Library had vaccination rates at 95 percent, while Inspectional Services and Parks Department had 96 percent and 97 percent, respectively. Boston Public Schools stood at 94 percent, while the Boston Fire Department was at 95 percent.
The high vaccination rate among city workers, according to Kelly, still leaves some members in danger of being terminated and leaving just one member behind was not acceptable. He invited Mayor Wu to lead them to a solution that doesn't include termination of anyone.
"We can't accept a solution that leaves even one of our members terminated," he said. "It's not fair and it's not right. They have rights…Let me tell you what else they have; they have families. They have jobs they care about. Just like…anybody else, if you were losing your job, that's a tough reality to face. Our members aren't ignorant people. They're very educated people, and some have very strongly held beliefs about this issue."
As the battle over the mandate has played out in court, a small group of anti-mandate protesters has sought to harass Wu outside her Roslindale home, shouting about Adolf Hitler. Kelly said the three unions condemn the behavior of protesters that have been holding court outside of Mayor Wu's home. He said the three unions would never do that. "We join the mayor in condemning those actions," he said. "We've conducted ourselves professionally and will continue to do so."
Under Acting Mayor Kim Janey, agreements called for city workers being able to submit to weekly testing instead of providing their vaccination status.
A possibility suggested by Kelly is to include a comprehensive testing regimen for non-vaccinated members of the unions. He said in many cases, the union members believe testing is a more effective measure for stopping the spread of COVID-19.
"I think we currently have and are working on a policy that…if you're not vaccinated, you're subjected to testing," he said. "What we've found is that the testing that our non-vaccinated members do at the beginning of a tour of duty protects the public even greater because we know now that vaccinated people have contracted COVID and carry COVID and work with COVID even when they don't realize they are sick."
He said the three unions hope to be able to go back to the table over the next few days to work toward that solution with the mayor.
The Appeals Court judge's stay of the mandate comes a day after members of Boston Police Patrolmen's Association (BPPA) voted down a proposed mandate agreement with the city. BPPA leadership drew criticism from other unions, including Local 718, for its negotiations with administration officials.
This post was updated with Mayor Wu's statement. It was additionally updated with comments from Ed Kelly at Florian Hall.