By Seth Daniel, News Editor
May 18, 2022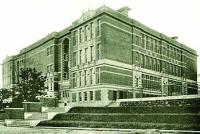 While it was high-fives and smiles in City Hall about the ambitious Green New Deal for BPS schools last week, so far in neighborhoods like Dorchester it has been a shrug of the shoulders – and, at best, a wary optimism.
Mayor Michelle Wu called on the "full force of city government" last week to have every Boston Public School (BPS) redone, or new schools constructed, within 10 years. The initiative is a capstone issue for Wu's administration, something she promised to do when she was running for mayor last year.
Count even her strongest supporters skeptical, however. While many in Dorchester say they support Wu and want her to succeed, they also say they aren't sure if she knows what she is getting into.
At the Mather School K-5 on Meetinghouse Hill, parents at the 117-year-old schoolhouse said they're feeling everything from "cautious optimism" to "deeply skeptical," with one parent saying he felt the system was so broken that facilities upgrades – though needed – may not be the most pressing problem.
"I wish I were more optimistic and more excited about this, but I understand there are politics involved," said Moses Park, a Mather School Site Council member. "My perception is there will be some schools that get a bulk of the help and others that get just the crumbs left over. That's a travesty…It's such a broken system and I don't think this should be addressed first."
At the Mather, parents said the building is quite outdated, but is ahead of other Dorchester schools as they have "figured out how to make it work." By and large, many of the public schools in Dorchester were built between 1900 and 1905 – with the Mather being certified for occupancy March 31, 1905. While those towering red-brick monsters tend to show off classic school architecture, massive windows, amazing masonry work, and fine architectural details, their insides have failed to keep up with even 20th-century standards due to a history of disinvestment and neglect.
At the Mather, one parent, Jane Park, noted that there is one bathroom, with no sinks, for the entire first floor that is shared by all grades. To wash up, students use the sinks in the hallway. Additionally, many parents have concerns with kindergartners sharing the same bathroom with fifth graders.
Meanwhile, accessibility is a huge problem at the school for anyone who has physical challenges.
"I know one guardian who has a scooter to get around and can't actually go inside the building because there just isn't any part of the Mather that is accessible," said parent Molly Warner. "I know another student who injured herself and couldn't attend school for six weeks because there was no way for her to use crutches to go to the top floor where she had her classroom."
Warner added that any work that gets done is usually constructed in a "haphazard" way and not by any sort of plan. She recalled when a leak caused calcification on an entire classroom wall, and "they determined it wasn't mold, so the classroom was being used, but it really wasn't okay."
For all three parents, and many others at the Mather, the more pressing issue ahead of the inadequate facility is not having a sixth grade. Because the Mather is a K-5, many parents are left in the lurch once a student moves to the sixth grade. With most schools running from 7-12 now, Mather parents must search for somewhere to land for one year before their child transfers to seventh grade. To avoid that situation, many bypass the Mather, which is why parents there have been fighting unsuccessfully for a sixth grade more than five years. Several other schools in Dorchester fall into the same category – the Oliver Wendell Holmes Innovation School, the John Winthrop School, and the Edward Everett School.
"We can have a bright, shiny building but families still might not come to the Mather because there is no sixth," said Warner. "Those are issues that go hand-in-hand. We're already calculating in first grade what to do about sixth grade and it does feel daunting."
Added Jane Park, "I wonder if there are too many other problems to now prioritize facilities. With the leadership being so unstable, I feel skeptical. I'm not skeptical of Mayor Wu, but I know she's up against a large beast in BPS. I'm just not sure how it will play out in real time."
The Mather School, the oldest free public school in America and one that traces its origins back to 1639, was not identified by name in Phase 1 of the Green New Deal for BPS, but it is one of dozens of schools that would get upgrades to facilities for accessibility and bathrooms.