By Gintautas Dumcius, Managing Editor
October 17, 2022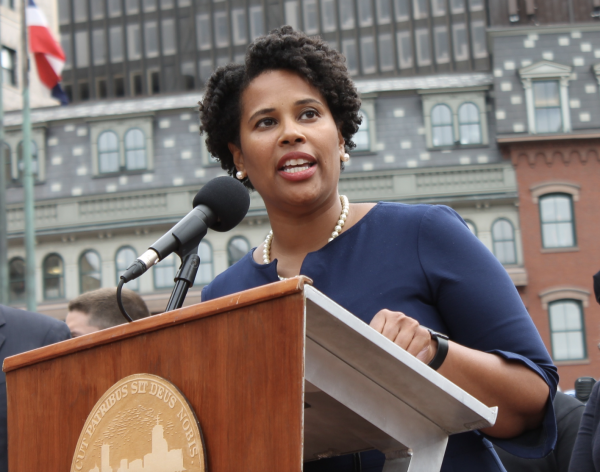 A coalition of advocacy groups has teamed up with several city councillors to offer their version of how the city's political boundaries should be drawn as part of the decennial redistricting process.
The Boston branch of the NAACP joined MassVOTE, the New Democracy Coalition, the Urban League, and the Chinese Progressive Association's political action committee, among others, in organizing the plan. The Greater Mattapan Neighborhood Council participated in meetings on the map but is still reviewing the proposal.
The map was filed by Councillors Liz Breadon of Allston-Brighton and Ricardo Arroyo of Hyde Park, both of whom have filed previous maps. A final map must pass mayoral muster and become law by Nov. 7, a year before the 2023 municipal election.
The redistricting process, which redraws the boundaries of the nine City Council districts every ten years, is driven this time around by a population increase in South Boston-based District 2, home to a new neighborhood in the Seaport, and by Dorchester-based District 3 having lost population. District 4, which includes parts of Dorchester and Mattapan, also needs to see an increase in white residents to avoid the "packing" too many people of color into the district, according to advocates.
This latest map moves District 3 up into South Boston, while taking the Financial District's waterfront away from District 2 and giving it to District 1, which is anchored in East Boston. The Vietnamese community in Fields Corner is also unified in District 3, a move that appears to have broad support across competing map proposals.
Where it is likely to get contentious is how the latest map moves most of Dorchester's Neponset neighborhood to District 4 from District 3, a realignment that would raise the percentage of white residents in District 4 by 6 percent.
A number of Dorchester groups have opposed splitting Cedar Grove, as other maps have proposed. The Breadon-Arroyo map would keep Cedar Grove within one City Council district, but leave Ward 16's Precinct 10, which is part of the Neponset area, in District 3.
Tanisha Sullivan, head of Boston's NAACP branch, said her coalition's map meets the goals of the federal Voting Rights Act in keeping districts where there is opportunity for communities of color to elect a representative of their choice. "It is done in a way that has an eye toward Boston as a whole and ensuring we continue to move forward as a city," she said.
Councillors gathered inside City Hall for a tense "working session" on redistricting on Monday.
District 3's Councillor Frank Baker formally filed his own map last Friday. He proposed keeping the Chinese community in District 2 as the Chinese Progressive Association requested. Baker's map also unites the Fields Corner/Little Saigon area within District 3, and puts all of Ward 16 under District 3.
His plan moves just a dozen precincts around, far fewer than the other proposed maps.
But the focus of Monday's working session was the NAACP map. Council President Ed Flynn said behind-the-scenes conversations over the NAACP map could be an Open Meeting Law violation, since there was talk that the map has the necessary votes to pass the City Council. Breadon said there has been no whipping of votes and no group discussion over the map, which would have violated the law.
"It is my understanding they already have the seven votes," Flynn said. "That is not my understanding," Breadon responded, adding that advocates are talking to councillors one-on-one, and not groups. "I am not aware of who the advocates have gotten commitments from."
Breadon added she has not abandoned a separate map she filed weeks ago with District 4 Councillor Brian Worrell. "We're keeping all the maps on the table," she said.
Flynn said he opposes any map that divides South Boston and the public housing developments within its borders. He expressed disappointment in Breadon filing the NAACP map on behalf of advocacy groups. Councillor Baker agreed and said the NAACP map "takes a sword to my district." He added: It "dedicates South Boston, decimates Dorchester."
But Councillor Arroyo said nobody can make a map that doesn't split neighborhoods. The city's population increase has been "too stark," he said. "There is no map where District 2 can keep every precinct."
A hearing to take public testimony is scheduled in Dorchester's Fields Corner this Thursday (Oct. 20) at 5 p.m. at the Vietnamese American Community Center on Charles Street.
At a hearing inside City Hall earlier this month, Dorchester civic leaders expressed their wishes for Cedar Grove to remain united within District 3. "The Cedar Grove area is a clear historic community of interest and is a core constituency for District 3," said state Rep. Dan Hunt, who worked on the Legislature's redistricting efforts last year and chairs the Ward 16 Democratic Committee.
He added, in a letter to the City Council: "We have retained an attorney and will exercise all legal options should any future proposal dilute the political community of interest of Ward 16."
Dorchester military veterans have also registered their opposition to splitting Ward 16. "As proud veterans of Ward 16/District 3 and one of the largest and most diverse communities in the city, we stand ready to exercise our legal right to ensure that the voices of veterans in Ward 16/District 3 are not silenced and our voting rights are not diminished," they wrote in their own letter earlier this month.
This post was updated on Tuesday, Oct. 18, with additional details on advocacy groups supporting the map and reporting from the Oct. 17 working session.