By Seth Daniel, News Editor
August 4, 2022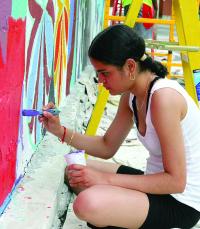 The Boston Project Ministries and Talbot Norfolk Triangle Neighborhood Association have another crew of young neighborhood artists hard at work this summer painting the area's sixth mural in seven years.
Each year, the partnership employs local youth to work in the neighborhood, including assisting a muralist on a signature piece of work as part of the Artists in Action team.
This year's mural is entitled 'All That Is Good,' and it adorns a long-empty cinder block wall at the auto body shop on the corner of New England Avenue and Talbot.
The lead artist is Alex Cook (center), and he is shown working with Joseph Bello, Samya Nixon, Organizer David Meyerend, Layla Pena, David Allen and Aren Williams.