By Seth Daniel, News Editor
May 10, 2022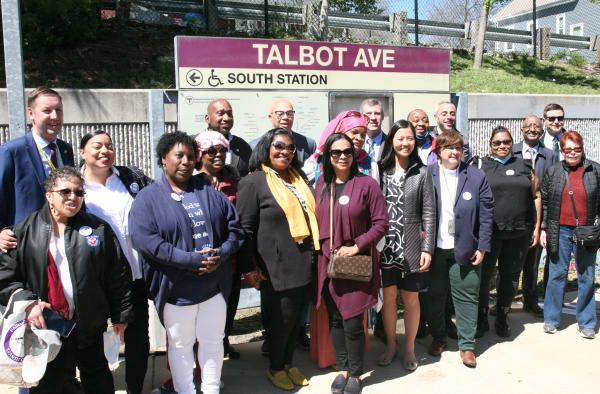 State transportation officials joined Mayor Michelle Wu and other elected officials on Tuesday afternoon at the Talbot Avenue Commuter Rail stop to announce that a pilot project that increased service frequency on the Fairmount Line two years ago will be locked in permanently.
"One fifth of Boston's population lives on this line and it's a community that deserves to have this level of service," said MBTA General Manager Steve Poftak. "The residents deserve great service from the train, and we're excited to provide it to them…This is no longer a pilot; it's here to stay."
The program that launched in 2020 added four inbound and four outbound trips per weekday, giving riders a train every 45 minutes, along with
free transfers at South Station to the Red Line, Silver Line, and other buses within a two-hour window.
The Fairmount Line includes stops at South Station, Newmarket Square, Uphams Corner, Four Corners/Geneva, Talbot Avenue, Morton Street, Blue Hill Avenue, Fairmount, and Readville. Four new stations were added to the line in Dorchester and Mattapan over the last decade.
"Transportation decisions are often the very first way we see communities passed by," said Mayor Michelle Wu. "In our history, we see which neighborhoods our highways bypassed to provide direct corridors to job centers…We don't have to worry if this pilot will continue into the future."
Marilyn Forman, a Dorchester resident and co-chair of the Fairmount Indigo Transit Coalition (FITC), recalls seeing circus animals pass through the neighborhood on trains that didn't stop. "We had to take a bus and a train and a bus to get down to the Garden to see those animals that passed right through here on the train," she said. "We don't have to do that anymore. It's so wonderful to get to another neighborhood in record time."
State Rep. Russell Holmes echoed that sentiment. "I thought [the trains] went great distances to some fancy place like New York City…We've been advocating for this for so long, and it's something that should have been here the whole time. We shouldn't have to fight for a train that went through our community and did not stop…I'm thankful today – 45 minutes is a good place to get to."
State Rep. Liz Miranda said that the 45 minutes between trains was "a good start," but added that the community needed even better service. With the Red Line being every six or seven minutes, she said, getting down to 30 minutes or, ideally, 15 minutes would be the right thing to do.
Felicia Richard, a Hyde Park resident who grew up on Greenwood Street in Dorchester abutting the Fairmount Line, said the addition of the line to her neighborhood and the increase in service has simplified her life. Instead of having to take a bus to a train to a bus to get to her work, it is now a one-seat ride downtown. That took her commute from 90 minutes to 45 minutes.
The announcement for permanent service increases did not include a second Fairmount Line pilot, an experiment in 2020 that ran trains on weekdays to Dedham and on to Foxborough's Gillette Stadium. That plan was waylaid by Covid-19. It was supposed to be resumed last year but has been paused.
Mike Muller, executive director of the Commuter Rail, said the Foxborough pilot program "won't resume until the fall [when] we'll try to give it a fair chance in earnest."