By Tara Kerrigan Hayes, Special to the Reporter
November 18, 2022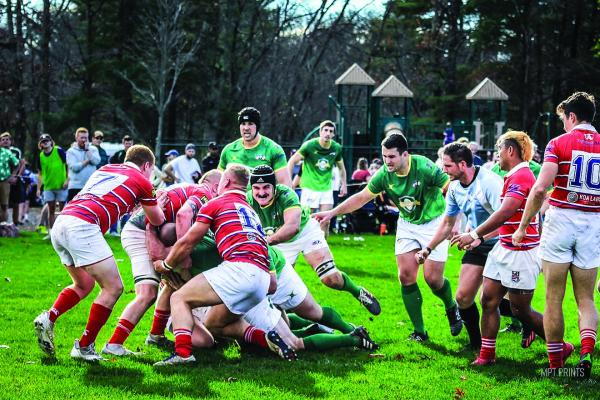 The Boston Irish Wolfhounds, led by their captain, Paul Taylor of Dorchester, emerged victorious last Saturday against Portland at the New England Rugby Football Union (NERFU) finals held at the Irish Cultural Centre in Canton. The final score was 18-13.
It was a deeply personal win for a team that had endured a devastating 2-point loss to Boston Rugby of Weymouth during last year's semifinals after first racking up a 25-point lead. It was a defeat that would both haunt the Hounds and fuel their determination for this year's successful comeback.
Redemption became serious during the semi-finals when the Hounds beat Boston Rugby, giving them home field advantage for NERFU finals. On Saturday, with the stakes high, and the energy palpable, the Hounds roared onto the field, and posted a 13-10 lead at half time after giving Portland little opportunity to find gaps in their overwhelmingly dominant defense. The second half involved mostly a swapping of numbers leading to the 18-13 final score.
Dorchester resident Ronan Griffin's interception was instrumental to the win, by which the Hounds clinched a spot in the Nationals set for next Spring. Also key to the victory was the kicking accuracy of Javi Martin, who was responsible for 8 points.
Hounds member Adam "Z" Zilcoski attributed the win to vigorous training and dedication by the players, but also to the vast knowledge base and industriousness of the coaching team, including head coach Liam Swanton — whose father and cousin are former Hounds — Ben Stone, and Wayne van der Bank.
A large contingent of the team resides in and around Adams Village, and includes two Dorchester natives, Jerry Manning and Dave Nguyen. The team practices on Boston College High School's football field.
The Hounds present players from all experience levels, from young BC grads to an active-duty Naval Officer with no prior rugby experience. Despite their different backgrounds, they share a bond that seems to transcend the game.
Zilcoski and Swanton credit Taylor for much of the team's success. "No one deserved this win more than he did," said Swanton. "It's a huge achievement for all the work he's put into the club."
Taylor, a native of Ireland, has been with the Hounds for over 10 years and is known for cultivating team camaraderie, helping new players acclimate, team promotion and more. Yet he's quick to deflect credit and heralds the Hounds for their collaborative skills, calling the team a true family.
When asked about his aspirations for the future, Taylor expresses a hope for continued solid team development, including the recruitment of more American players. "We are proud to have a diverse team that welcomes all players of course, and as the name suggests many of us are Irish, but ultimately we want players who will commit to sticking around," he said.