By Reporter Staff
November 17, 2022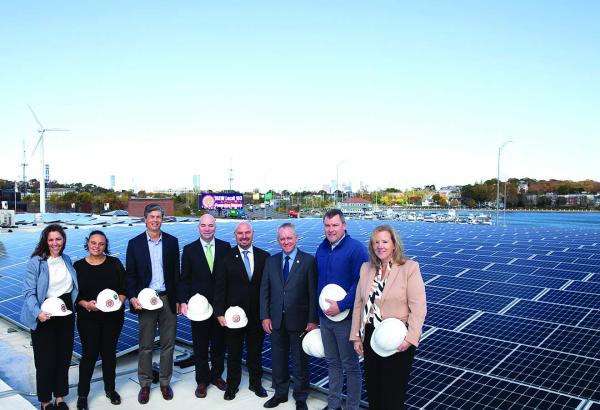 Nexamp and the International Brotherhood of Electrical Workers (IBEW) Local 103 celebrated the completion of a solar and energy storage project at IBEW's headquarters on Freeport Street last month. The project will provide IBEW with annual savings on energy costs and supplemental power in the event of a local power outage.
"We are committed to building a sustainable, resilient, and energy-efficient future for our members and our communities," said IBEW Business Manager Lou Antonellis. "The completion of this project demonstrates that IBEW electrical workers are leading the way in transitioning to clean energy and resilient infrastructure. We have always had green technology on our campus and this project completed with Nexamp takes that to the next level."
The system, designed and installed by Nexamp and Lynnwell Associates, will provide enough energy to meet nearly 70 percent of the electricity needs of IBEW's headquarters. Combining the solar generation with energy storage has the added cost saving benefit of enabling IBEW to store solar power when electricity prices are low and use it when prices are high. It can also provide much needed backup power during disruptions caused by increasingly frequent and intense storms.
"Our union is walking the walk when it comes to energy efficiency," said Renee Dozier, Business Agent, IBEW Local 103. "The completion of this project comes on the heels of historic support from the Biden administration, through the Inflation Reduction Act and other measures, that means our transition to renewable energy will also uphold and create good union jobs."
In addition to Antonellis, officials taking part in the event included Zaid Ashai, CEO of Nexamp, state Rep. Jeff Roy, House Chair of the Committee on Telecommunications, Utilities & Energy, state Rep. Dan Hunt, Chair of the House Committee on Federal Stimulus and Census Oversight; and Bernard Treml, Regional Director, US Department of Labor and Office of Apprenticeship.