By Jennifer Smith, Reporter Correspondent
June 22, 2022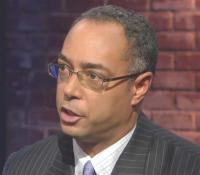 Boston's Ward 15 Democratic Party Committee endorsed Kevin Hayden for Suffolk County District Attorney on Saturday, following candidate interviews in which Hayden and City Councillor Ricardo Arroyo laid out their cases for the office. 
Hayden, appointed by Gov. Baker to replace Rachael Rollins after she departed to become US Attorney for Massachusetts, characterized himself as an experienced prosecutor who can meld the dual interests of public safety and criminal justice reform.  Arroyo said he was moved to run for the post because of the "arbitrariness" of the justice system, pledging to continue and advance Rollins's legacy in the office in part by maintaining programs like the "List of 15." 
The "list" includes 15 offenses that Rollins said her office would decline to prosecute as a matter of policy, as the crimes tended to be property-based offenses where dismissal, diversion, or civil consequences were determined to be more appropriate than criminal charges.
That policy was a point of controversy during Rollins's tenure and is still a matter of semantic disagreement in the race to replace her. 
Arroyo, who said he was part of the group who worked with Rollins to put the list of offenses together, told the Ward 15 Democrats that he wants to "uphold" and "strengthen" the list and its application. 
"The other thing that having a written policy of 15 does is it takes out the micro- biases from our ADAs," Arroyo said. "It no longer makes it so that they make judgments based on who's before them, in terms of their race or their class or any of those issues. It makes a fair playing field where everybody understands that these are rebuttable presumptive cases."
He noted that the list does not equate to a "get out of jail free card," adding that about a quarter of cases on this list still end up with charges being brought "depending on what that person's record is and what was happening in that particular moment and what that person's ability or willingness to do treatment and to do the sort of rehabilitation things that needed to be done."
Hayden said his office would continue a policy on alternative prosecution for lower-level offenses like those on the list. "Now that having been said, and I've been very clear on this," he said, "we will do it in a different way, and that different way will take us away from a focus on charges and a formulated approach to what those charges are and how many of them we prosecute."
He recommends a case-by-case basis approach "without bias" that would "focus on the human being involved in the case" and determine the best diversionary approach to avoid future offending. 
Committee members asked both Arroyo and Hayden a series of questions covering the gang database, police misconduct, illegal gun smuggling, diversity in the prosecutor's office, and addressing systemic and structural racism.
Arroyo and Hayden differed meaningfully on the extent of gang activity in Boston and the role of the Boston Police gang database.  The way Boston Police classify gang-involvement is overbroad and the database lacks a "guiding purpose," said Arroyo, who supports abolishing it. 
The lasting impacts of a person ending up on the database are far reaching and often permanent, primarily including Black and Latino individuals, and the estimates of some 3,000 gang-involved people in Boston do not seem accurate, he said. "It's not worth whatever we say we get from it," he added.
Both candidates noted that an affiliation is not the same thing as being an active member of a gang. 
Hayden said the database is a critical tool that needs "continued reform," and "as long as there are gangs out there, the gang database, I think, must and needs to be in place." He credited the information in the database with reducing murders by the gang MS-13, in part because that group's recruitment efforts sparked violent activity by young people before they became full members of the gang. 
Both candidates agreed that police misconduct cases pose potential conflicts of interest for the district attorney's office. They offered different alternatives to sending all such cases to the attorney general's office as ward committee members suggested. 
Hayden said the attorney general's office structure means it is not "suited to deal with those kinds of cases," and he would be open to referring Suffolk County police misconduct cases for investigation and prosecution in another county. Arroyo said the attorney general's office is also subject to conflicts of interest because it, too, relies on police accounts. For his part, Arroyo said that as district attorney, he would not take money from law enforcement unions. He said he also supports expanding integrity reviews to hold officers accountable in cases where an arrestee is exonerated due to police or prosecutorial misconduct. 
At the end of the day, Hayden had cleared the two-thirds bar of support needed to secure endorsement from the committee.
The next virtual DA forum will be on June 28, hosted by the Boston Ward 4 and Ward 5 Democrats and moderated by Harvard professor and former gubernatorial candidate Danielle Allen.