By Reporter Staff
November 11, 2022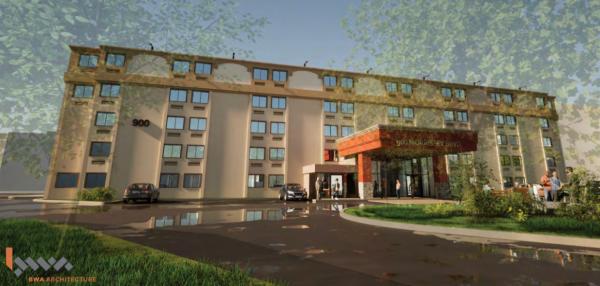 Pine Street Inn and the Community Builders have filed plans with the BPDA to convert the Comfort Inn at 900 Morrissey Blvd. into a 104-unit apartment building with ground-floor retail space.
All of the apartments would be rented to people making no more than 30% of the Boston area median income - aimed at people trying to get out of homelessness.
The filing triggers meetings and a public comment period for the public. The BPDA has scheduled an online meeting on Dec. 7, starting at 6 p.m. on the proposal.
Pine Street and the developer - itself a non-profit - are currently building a 202-unit on Washington Street in Jamaica Plain in which 140 apartments will be similarly reserved for "supportive housing" for people coming out of homelessness.
As in Jamaica Plain, "PSI will provide supportive services to the tenants living in the Project through a contract with the property owner that will ensure tenants have access to daily case workers on-site, with the goal of keeping people living stable lives in their apartment homes long-term."
Unlike in Jamaica Plain, however, where the main opposition came from a landlord across the street concerned about parking, residents and elected officials have opposed the Morrissey Boulevard proposal. Councilor Frank Baker, while praising Pine Street in general, said he's worried about concentrating so many "high-risk individuals" in one place.
The proposal calls for 33 parking spaces.
The Community Builders hopes to begin 9 to 12 months of construction in the fall of 2023.