By Gntautas Dumcius, Managing Editor
January 26, 2022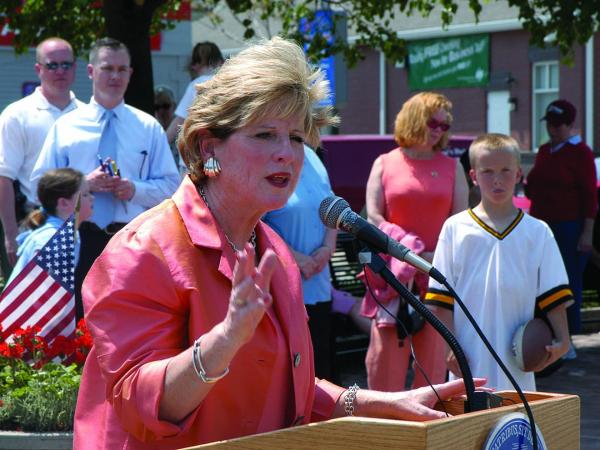 Thirty-four years after she walked into City Hall as an aide to a Dorchester councillor, Maureen Feeney, who served nine terms on the council herself before taking the job of city clerk in 2011, is retiring.
The 74-year-old Feeney leaves as her fourth three-year term as clerk ends on Feb. 1. Her career spans five Boston mayors, from Ray Flynn to Michelle Wu.
"It just seemed like the right time," she said, when reached by phone on Tuesday at her City Hall office. Her husband Larry, an attorney who once worked for the state's veterans affairs department, is already retired, she noted.
The Cedar Grove resident said she made the decision just before Christmas, as a new mayor was settling into the executive suite, and as the City Council was readying to take on five new members. She notified Wu and Ed Flynn, the City Council president, after the Jan. 3 inauguration.
Her plans to resign were first reported by GBH News.
In the 1980s, Feeney had left the insurance industry to work for Dorchester Councillor James Byrne, who is now a district court judge in Chelsea. Feeney had never worked in the public sector before. "I can remember saying to him, 'You're going to pay me?' I thought I was going to just go to community meetings for him," Feeney recalled.
Byrne encouraged her to run for his seat when he opted against another two-year term. She was first elected to the Council in 1993, and was re-elected nine times, each time by ward margins.
Feeney said she is most proud of her role in the merger of Boston City Hospital and Boston University Hospital that created Boston Medical Center. As a councillor, she worked on the legislation that allowed the merger, which occurred in July 1995, following labor protests over a public hospital being converted into a private one. In 2009, she donated her papers on the merger to UMass Boston.
"The most important thing for me is the friendships, the amazing people I've met," she said. "So many department heads and mayors. It's been an amazing journey. It's hard to pinpoint any one moment."
A close ally of the late Mayor Thomas Menino, she was twice elected City Council president, the first time in 2007. She was the second woman to have held the job, after Louise Day Hicks in 1976.
Feeney has served on the boards of Boston Medical Center, Bay Cove Human Services, the Dorchester Boys and Girls Club, and the Boston Home.
In a statement, Wu wished her well in retirement and called her a "trailblazer" across city government. "Maureen Feeney exemplifies public service," the mayor said.
Matt O'Malley, who recently left the City Council after more than a decade representing West Roxbury and Jamaica Plain, first met Feeney when he was an intern for Councillor Peggy Davis-Mullen. "She's a legend," he said. "It's a huge loss, but I'm very happy for her."
Even before he was in City Hall, O'Malley had heard of Feeney. He recalls attending a block party in Neponset when he was in high school. In line for the ice cream truck with a friend, O'Malley heard two little boys pointing her out in the crowd. "Even the kids know her," O'Malley said. "She has a heart as big as the city she loves. She knows everyone. She's unfailingly kind. She can be tough. She sticks to her guns and was an effective councilor and an effective clerk because of it. The institutional knowledge she possesses could fill City Hall ten times over."
O'Malley ran for office years later, and he would often run into Feeney while on the campaign trail and at civic association meetings, which abound in Dorchester, the city's largest neighborhood. "She was there night after night, and she loved it."
In April 2011, Feeney said she would not run for another council term, sparking an intense campaign to replace her. Savin Hill's Frank Baker, a former city employee, won the November election, and Feeney stepped down soon after as part of an effort to take the city clerk's job. In December, the City Council voted 10-1 to give her the job.
The clerk's office, which employs 15 people, oversees business certificates, public notices, and the city archives. The City Council chooses the clerk, who creates the council agenda and maintains meeting minutes.
Feeney recalled when as a city councillor she watched with interest how her predecessor, Rosaria Salerno, herself a former city councillor and the clerk for 16 years, handled it. She said she hopes the assistant city clerk, Alex Geourntas, will be picked to succeed her. She noted he helped train her for the job when she took over in 2011. "We have worked as a team for the last 12 years," she said.
She also departs as her daughter, Kaitlin Passafaro, has just left City Hall, where she served as director of the Mayor's Office of Intergovernmental Relations, to take a government relations job with Berklee College of Music.
"It is strange, having worked with her for 13 years, to have her out of the building," Feeney said. "We were sort of a tag team while we were here."
As for what's next, Feeney said, "I suspect my grandchildren will have a major role."
Does she plan on staying in Dorchester? "You can count on it," she said, noting that the families of her son Matthew and her daughter live in Dorchester. "This is where I was born and I hope to spend every moment of my life here because it has given me so much," Feeney said.