By Reporter Staff
May 5, 2022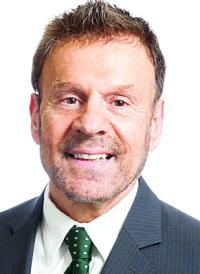 Dorchester resident James E. Luisi, a local and national leader in the community health field, is retiring after 34 years as CEO of the community health center North End Waterfront Health (NEW Health), which has sites in the North End and Charlestown. He will formally step down on June 30.
Vincenzo Scibelli, the center's chief operations officer, will serve as interim CEO while a successor is recruited.
Luisi began his health center career as a college student in the late 1970s when the facility had one location with 25 employees and a budget of $400,000. He advanced through senior leadership to the CEO role with the goal of providing the highest quality care to the most vulnerable residents of the North End, the Waterfront, Charlestown, and surrounding areas.
Today, NEW Health has three locations and a staff of 175 with a yearly budget of over $25 million.
"While we have faced many challenges over the years, this job has brought me so much joy and satisfaction knowing the difference we have made in people's lives," said Luisi. "As long as we continue to empower people to self-care while contributing to their health and well-being, community health centers will continue to be the model for health care in this country."
 State Rep. Aaron Michlewitz has known Luisi since childhood when he visited his father, who worked as an obstetrician-gynecologist at NEW Health.
"Jim and the health center have always been the cornerstone of the community – not just in health care but in taking care of many social needs of our residents like food insecurity and housing. During the height of the pandemic, NEW Health also provided crucial testing and vaccination. Jim's leadership will be missed by us all," he said. 
When asked about his tenure, Luisi said he is most proud of establishing health centers at Charlestown High School and in the Bunker Hill Housing Development.
"People living in the development had to go across town to Boston Medical Center because no other providers in the area accepted their insurances. Against all odds and with help from Sister Nancy Citro, a nun from St. Catherine's Church, we were able to convince the Boston Planning and Development Agency to give us a zoning variance to open in the old St. Catherine's School in 2015."